As we reach the final week of 2022, Lime Media is reflecting on our achievements this year. Overall, our team has been producing the unimaginable. From two-week, quick-turn programs to custom-built assets, and everything in between, we have been living up to our motto that we BRING YOUR IMAGINATION TO LIFE.
We are looking ahead with anticipation to what 2023 holds for us, but not before taking a moment to share some of our most UNIQUE and CREATIVE projects that hit the road in 2022.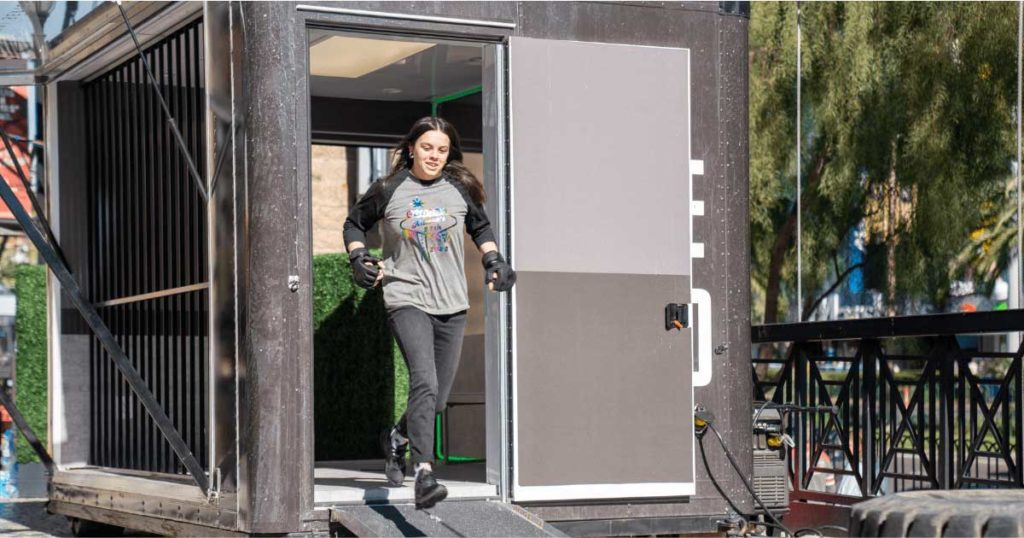 Amazon Reacher
We partnered with Tool of North America and Amazon Prime Video to promote the debut of the new series, Reacher.
At our headquarters, our team transformed 3 of our glass pods into an obstacle course for attendees to mimic some of the missions from the show. In the first pod, our fabricators replicated a jail cell by adding custom bars. The second pod was transformed into a living room and included custom-built cabinetry and faux air conditioning boxes. In the third pod, we had a punching dummy prop. All the pods had RGB lighting installed as well.
In addition to the pods, our team produced a working cop car prop and an SEG wall for the event.
The event took place in Las Vegas, RIGHT on the strip. Attendees were excited to participate in the interactive experience. Tool of North America and Amazon were ecstatic with the event's success.
The Price is Right
Lime Media partnered with MKG and Pink Sparrow to help them create the "Come On Down Tour." This was a 50-state mobile tour making stops at prominent landmarks across the United States.
The Price is Right wanted to celebrate its 50th anniversary by sharing the show's magic firsthand and in a memorable way, and boy, did they succeed!
Our team fabricated a 16-foot glass box truck with rear swinging doors, interior LED lighting, and a full vinyl wrap for the tour.
The tour allowed fans to play the infamous Plinko, spin the wheel, and compete in the showcase showdown for a chance to win prizes, including a grand prize of $50,000!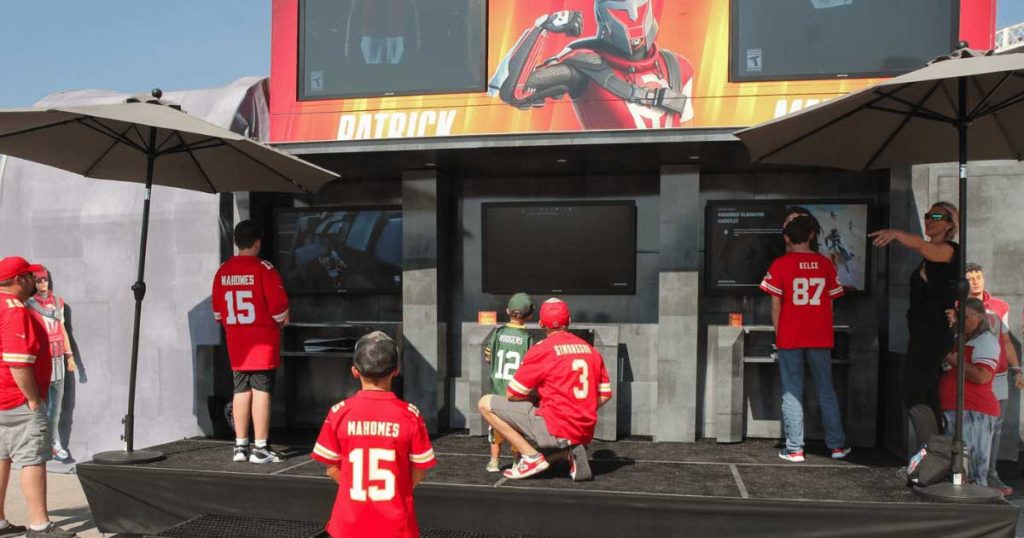 Fortnite
Nothing brings people together like football… and video games! For this one-of-a-kind activation, Lime Media partnered with Springhill Entertainment along with the NFL and Fortnite for the release of a new Fortnite character skin. The new skin was for Kansas City Chiefs quarterback Patrick Mahomes.
Our team took a bizbox trailer and created an interior Hall of Fame with podiums and LED lighting. They built an extendable stage, multiple gaming stations, and a rooftop flip-up sign with display screens that mirrored the games being played below.
It's only fitting that the event took place during the tailgate of a Kansas City Chiefs home game. There were even some appearances from the players themselves! The event was a huge success. Attendees, both young and old, loved being some of the first to play the beloved game as Patrick Mahomes!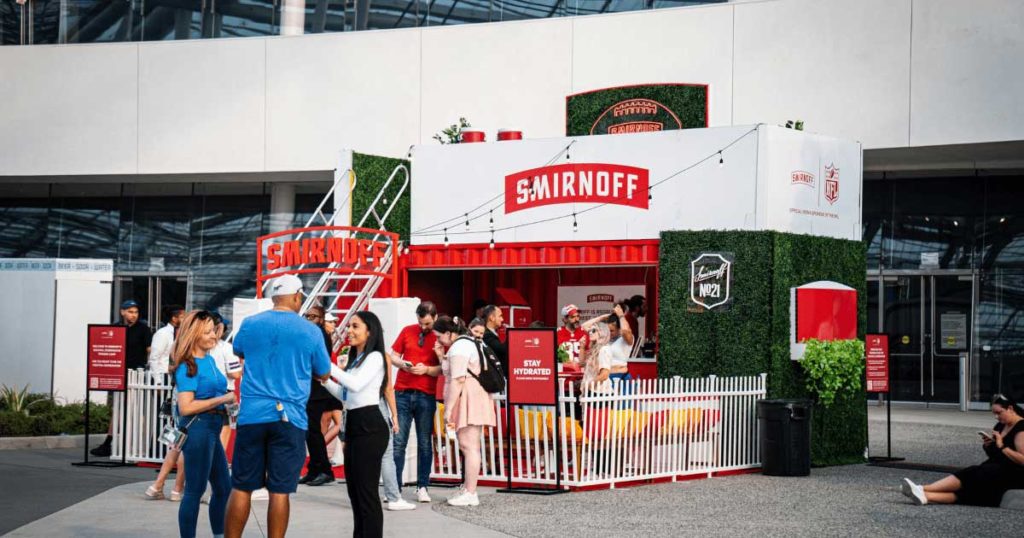 Smirnoff
Speaking of football, one of our most unique activations was in partnership with NVE Experience Agency to promote Smirnoff.
For this event, our team turned a simple shipping container into a VIP pop-up bar experience during NFL game tailgates. The container was complete with a full bar, photo op area, branded Plinko, an extended footprint for extra lounging, and a rooftop lounge that could hold up to 50 people. Now THAT'S a party!
The goal was to help Smirnoff recruit for its first-ever Cocktail Coordinator. Not only did the brand succeed, but they were able to give attendees an unforgettable tailgating experience.
The container has made its way to several NFL games across the country and will make its final debut at Super Bowl LVII in Glendale, Arizona.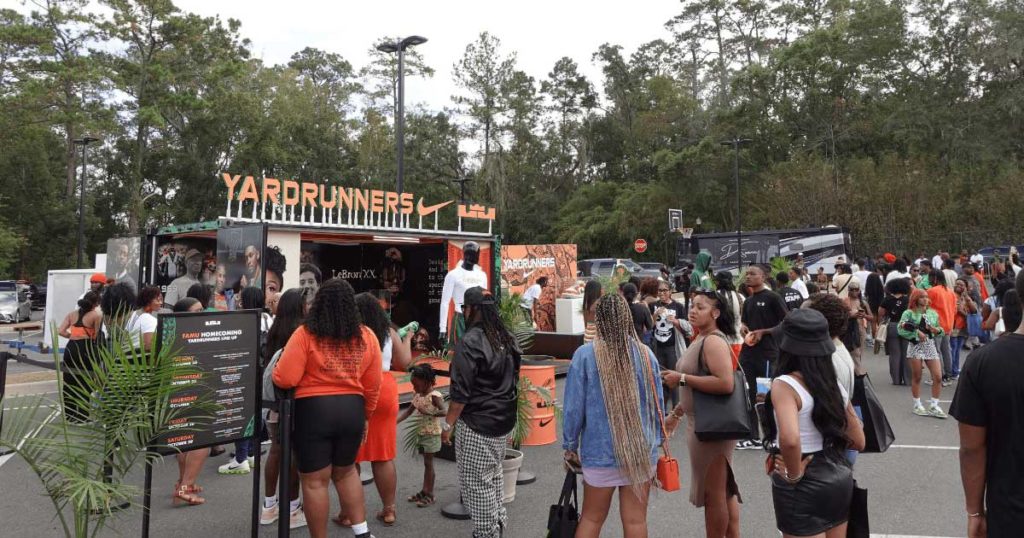 Nike
We partnered with League Twenty-Two and Nike to launch their special edition sneakers.
Lime Media used a shipping container and added LED strip lighting and a full vinyl wrap. The extended footprint included giant Jenga and an awesome photo op, including a customized throne. Yep, you heard that right!
Throughout the day, tickets were handed to attendees for a raffle with a chance to win a pair of limited-edition sneakers.
This activation was special because it honored the four black women that designed the first-ever HBCU Nike Dunk sneakers. It was only fitting that the activation occurred at one of the most prominent HBCUs, Florida A&M University.
Attendees had a phenomenal time, and the event was a huge success!
Bring It On! 2022 was a year full of opportunity, growth, and INCREDIBLE projects. We are so excited to see what the future holds for 2023. If you want to WOW your target market in 2023, Lime Media's got you covered!