Beaches have become the new stage for marketers.
Beach; noun. Synonyms: relaxation, happiness.
Beaches are not only FULL of people but full of RELAXED people eager to use their social networks. Why wouldn't you take advantage of it?
Beaches have become the perfect setting to create original and striking marketing. A live and direct "call to action"! Companies are using the responsiveness and relaxation that consumers experience to more easily reach them, a trend that was already used in the 60s and 80s by the company Nivea. The summer season is about to kick off and travel plans are being made!
The 2020 summer season was rare. The coronavirus crisis was still at its peak and very recent in its most dramatic aspect, which led consumers to be reluctant to the idea of doing things or traveling. Well, all that's changed. Everyone wants to go on vacation and live their life! This is going to be the year we make up for the time we lost.
Why is this method of advertising effective?
It's easy. Everything that's new, innovative, and that manages to reach the consumer's mind WORKS! It's about catching the consumer by surprise and in environments where they do not expect to receive advertising from your brand. Breaking from the norm will allow your brand to have more impact on the consumer and be much more effective!
Experiential Marketing Events are effective, different, and attract attention. What will the consumer do? They will snap a pic, post it on their social networks, and get you free advertising!
Users want to share with their friends how much fun they are having on vacation, and above all, share each and every unique moment. So what will happen? You will reach more people!!
Bringing marketing to beaches has many advantages. We suggest using the positivity people experience when they travel to the beach, to create positivity towards your brand. Keep reading to discover the ways you can advertise your business on the beach!
Bring on the sand
Use the sand to capture the attention of sunbathers and ensure they keep their eyes on your advertising campaign this summer! One way to capture their attention is by creating SAND SCULPTURES and SAND STAMPS. These are unconventional ways to promote your brand and will easily impress and attract the eyes of the attendees. People won't miss it and will HAVE to take a picture of your sand sculpture or stamp!
Here you see how Little Adventures used sand stamps for one of their campaigns.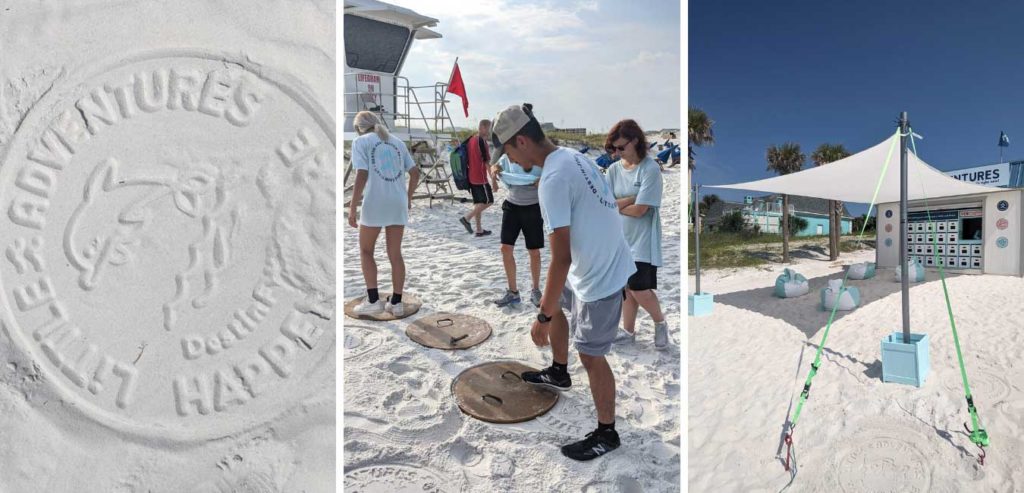 Give your attendees a refreshing treat
Draw attention to your brand so that people know about it, think about it, and remember it by giving your audience some ice cream during a warm beach day. Who would resist a refreshing treat? NO ONE! Remember, you don't need to have a business or brand that represents food to reward your audience with some treats. You could use a bike cart, a step van, or park a food truck by the beach. These vehicles are perfect for on-the-beach distribution to consumers.
Check out the different ways you can give treats away here.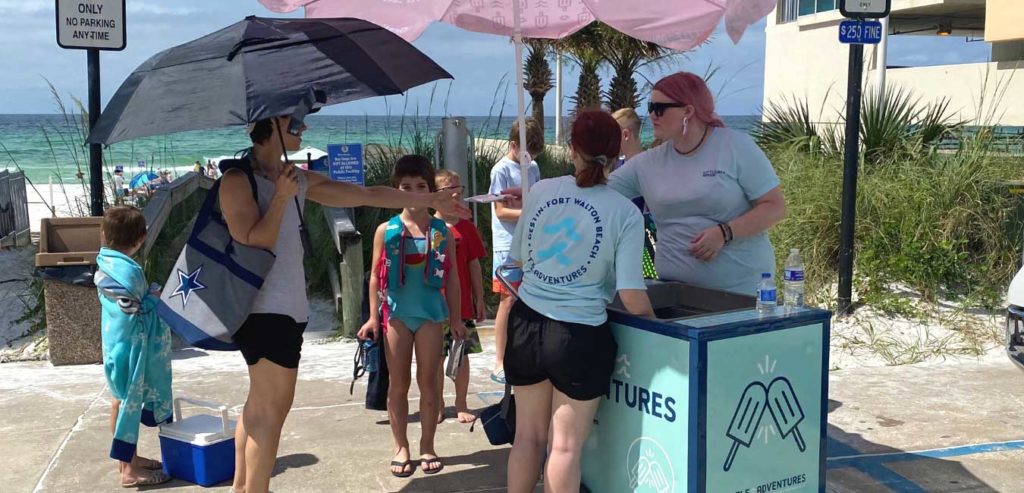 Get the party started
You can give your audience a reason to celebrate your brand and create a connection they won't be able to forget. Take advantage of the sunset and organize a party at the beach! Our custom marketing containers will do the job. This asset is flexible, has strong curb appeal, and has rooftop space that draws consumers in like gravity! Our team will customize these containers to make your brand stand out and generate buzz.
Have a look at how we create brand awareness and generate buzz in our previous campaigns.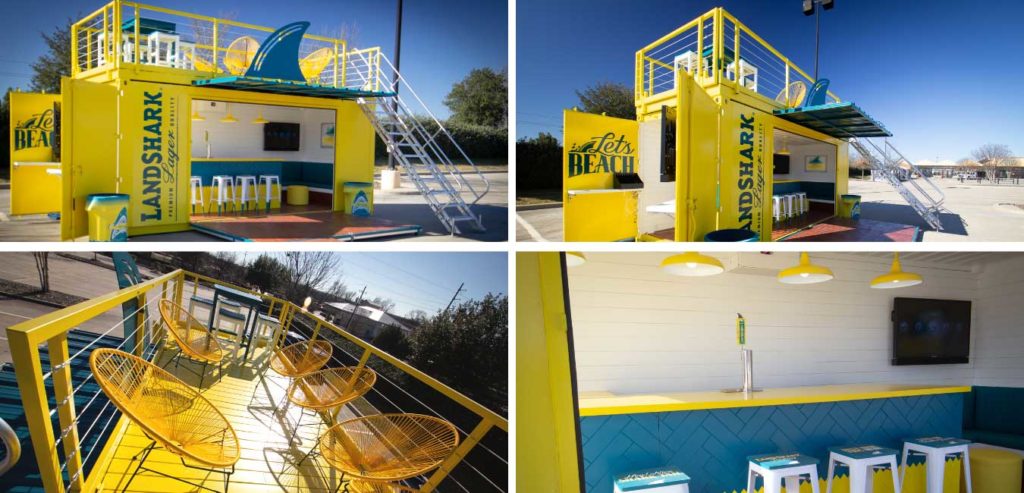 Feed their need
Everybody knows people love free food, but is everyone willing to give it to their audience? Nope! You can make a difference and feed your audience in an innovative and creative way while they are relaxing and having fun at the beach. They will feel gratitude for the free stuff and become attached to your brand.
Bring the beach to them
If you want to target a more specific audience, in specific locations, and still take advantage of the warm season – we have the solution for you. Bring the sand and the fun TO them! Our experiential marketing vehicles have the ability to reach customers wherever they are located. We can customize them however you want, so creating a beach atmosphere won't be a problem. Here are some examples of what we are able to do.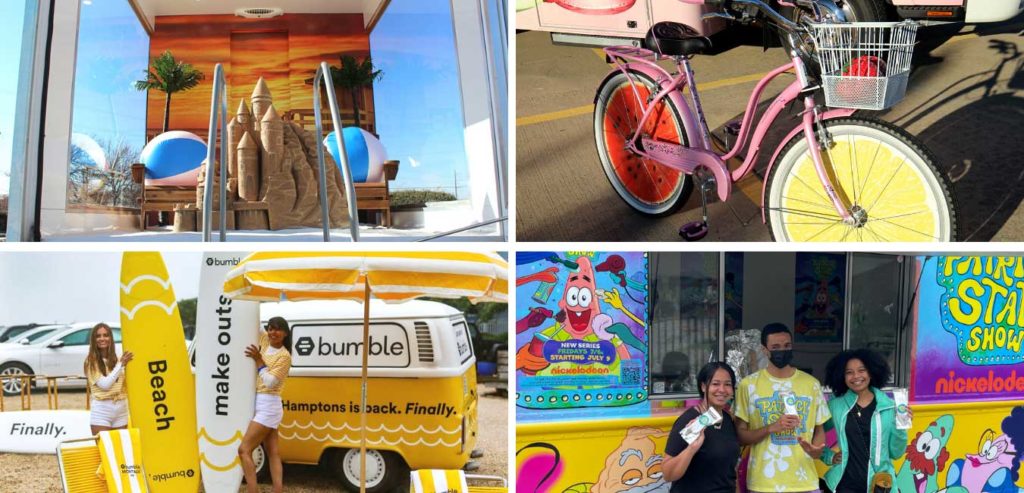 It's your turn!
Summer is the season of fun! Don't forget to convey this to customers when you go to promote your business! At Lime Media, we can help you create an event open to everyone on the beach. Even if you don't know where to start, our expert team members will ride the waves with you every step of the way.
Contact us now and let's get started!