Why sampling vehicles and events are worth it for your brand.
Numbers don't lie: eight in ten consumers participate in brand activations for the mere purpose of testing a product, and seven out of ten say they're more likely to buy it once they try it!
Events such as music festivals, product launches, markets, and fairs among others, are strategic spaces for a brand to put their products in the hands of their target audience.
If you add a cool vehicle to the equation you end up with a successful product launch!
But… What is sampling and what is it for?
In general terms, sampling, also known as product testing, is a promotional strategy to bring a good or service to consumers.
This strategy is a way to "hook" your clients through a process that leads them to discover whether the product they are testing meets their needs or not. Opposed to opting for an aggressive strategy, sampling offers a customer the option to evaluate for themself whether or not to make the purchase.
"But, what are the benefits of sampling if I am giving away my products for free?"
Glad you asked!
Main Benefits of Sampling
Whether it's a part of an activation at a music festival, at the opening of a point of sale or when launching a good or service, sampling is happening more and more often at major events. Why is this and what motivates a brand to make use of this marketing action? Well, there are many benefits of this marketing strategy!
Break the Initial Barrier between Brand and Consumer
One of the main difficulties when selling a product or service is to convince your client to buy your product for the first time. By using a product or service as a hook that comes at no cost, we manage to soften the potential opposition and gently convince themto perform an initial trial. We merely nudge them to take the first step.
This first experience, if positive, will help the user to establish a reference with the rest of our services or products.
Brand Loyalty and Familiarity
With a sampling event, we are making the first move. We create a moment to establish the first relationship your consumer has with your brand, generating a greater sense of familiarity. This familiarity will later help them to subconsciously prefer to choose your products over any others!
We open the possibility of creating a lasting relationship with the customer through this "getting a foot in the door" technique. If a potential customer has tried one of your samples and is happy with the product, you will have a higher chance of them buying it for a second time.
Exposure and Publicity
Your guests are also your best ambassadors. If you create a cool event with a distinctive venue no one will be able to resist sharing it! We will look for ways to make your event photo-worthy to encourage attendees to post during the event and this will result in free organic publicity.
On your end, you will only need to encourage them to promote your event to their friends and use hashtags on social media when they talk about it.
Our Successful Strategies
Our product sampling strategies are known for being successful, for their originality, and for the use of technology. We created plenty of sampling campaigns and we can can break them down into three main categories:
Interactive and Attractive Stands
You have to capture the attention of the consumer from a distance, attract them with innovative activities, and encourage them to try your product. Your sampling event can't just be limited to handing out free samples. It's important to create a space that allows consumers to feel included and immersed in everything the brand represents. For example, interactive exhibitions can be held where the public can participate through activities and your product is highlighted as the main element. Our vehicles will allow you to present the qualities of your product, and make it easier to show how it works to your customers, providing them with a firsthand experience.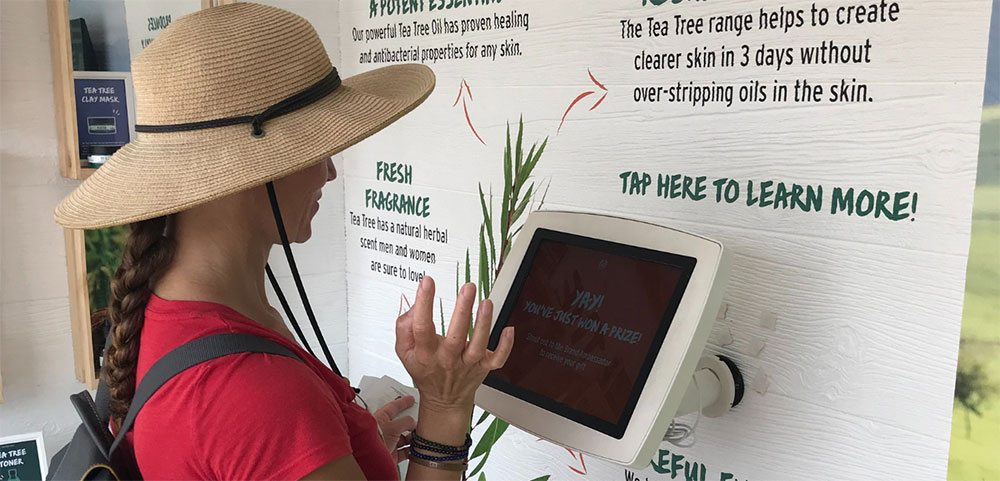 Vending Machines
Intelligent vending machines have been developed to entertain viewers and offer gifts or samples in exchange for a specific action from the consumer. With these valuable, automated, high-tech, machines a campaign can be carried out by allowing the potential consumer to take their time interacting with the vending machine and receiving a free sample all at the same time.
Some of these machines are capable of performing facial recognition, which is highly enticing and will make any campaign even more appealing! Check out this vending campaign we created for Coke: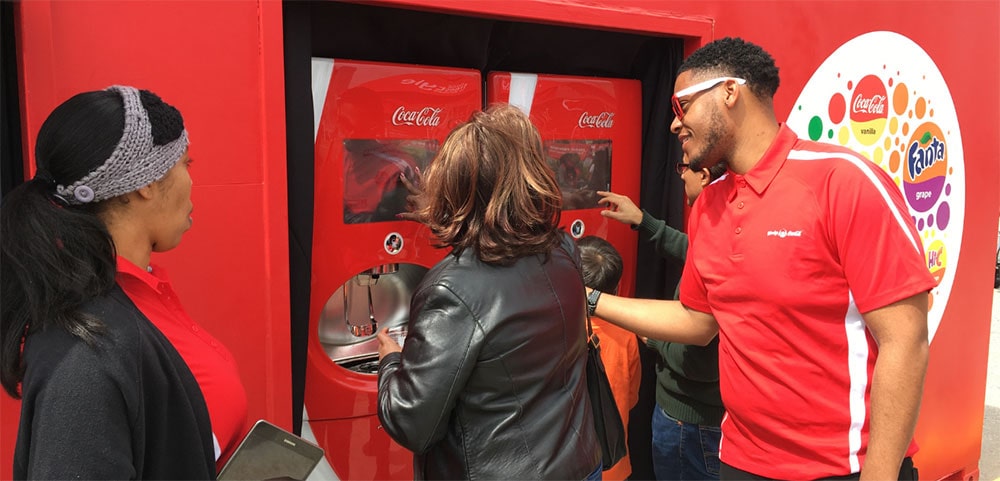 Pop-Up Stores
The strategic placement of small kiosks, shops or stores will literally "pop-up" on the streets, making our vehicles a visual advertisement your customers won't be able to miss.
It will be so unique that no one will be able to resist the temptation to approach the stand; even if it's simply out of curiosity. Their experience will be memorable and the emotional load will remain at both the top of their mind and at the top of their heart.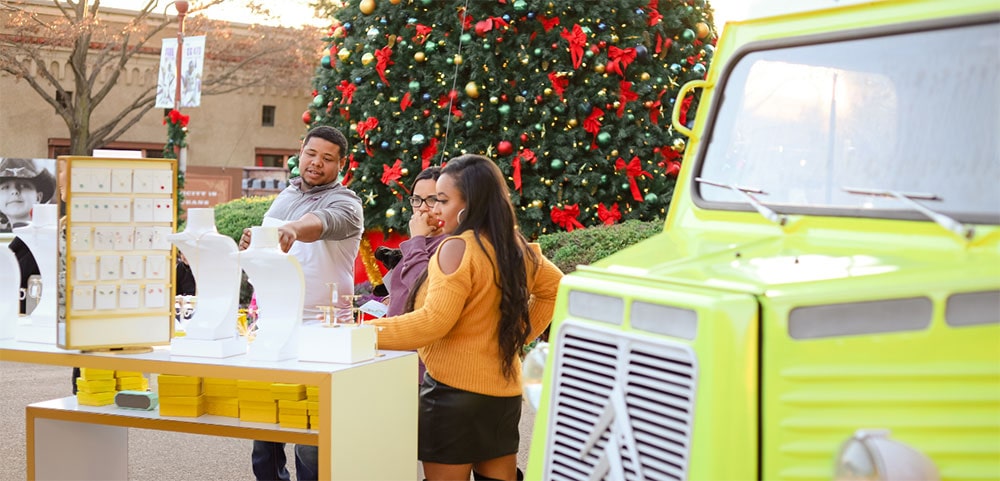 What should you do?
With our sampling event campaigns, you will only need to think about the space where you want to take your activation and the product you want to push. We design sampling activations anywhere around the US and Canada and for any type of business.
The events and brand activations organized by Lime Media offer you very defined market segmentation that guarantees that your samples will reach your buyer persona, improving your results in brand recognition and sales!
Don't let your sampling efforts go to waste by targeting too large of an audience. Know your target market, choose an event where you can present yourself well and increase your sales by giving your product to those who will really want to buy it.
Let's Get Started?!
Undoubtedly an event like this, implemented by professionals, controlling the times, the budget and having objectives set, can generate very positive results for the brand or the product you want to promote!
At Lime Media, we have experience planning and executing these types of events, as well as other experiential marketing campaigns, and we will provide you with all the information and support you needso that your samplings, marketing, communication, and advertising actions give you the best possible results. Have any questions? Contact us! We will be happy to help you organize your next sampling campaign.