WHAT IS IT?
What is experiential marketing? THAT is the question. A quick google search will lead you to discover that there are many different terms for experiential marketing.
Engagement marketing
Event marketing
On-ground marketing
Live marketing
Participation marketing
Loyalty Marketing
Special events
No matter what you choose to call it, the definition or concept of experiential marketing is the same. It's a strategy in marketing that gives the consumer a chance to participate in an experience with a brand, company, or business. The reason for it? To create a meaningful relationship between consumer and brand.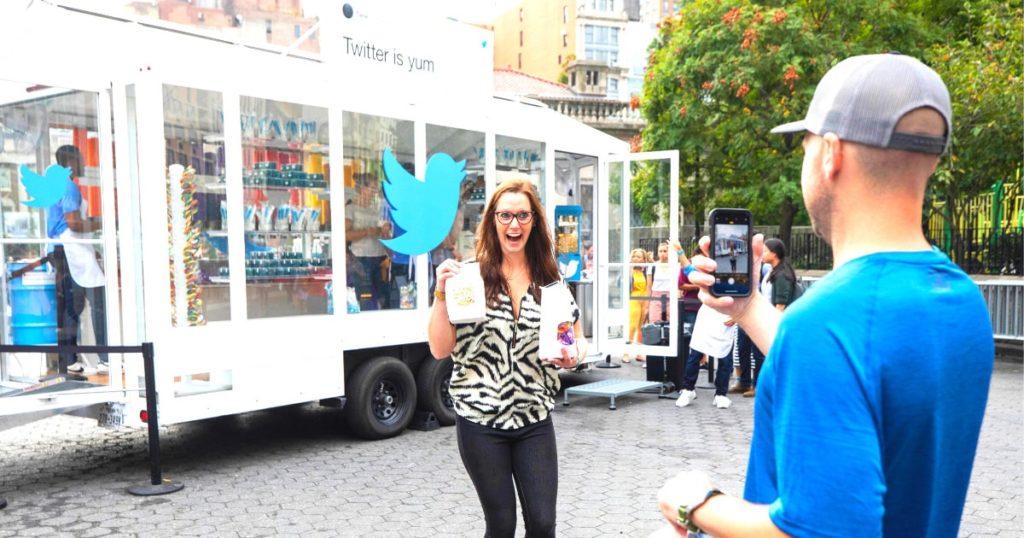 CHECK OUT THIS EXAMPLE
Twitter wanted to connect with users and create brand loyalty. They custom-built a candy trailer and invited people in to enjoy a treat. Consumers were able to interact with brand representatives (brand ambassadors) and share via social, Twitter in particular, to promote the brand and show off the experience. Participants left with a positive impression, endorphins multiplying and will remember the experience with the brand forever. Mission accomplished for Twitter!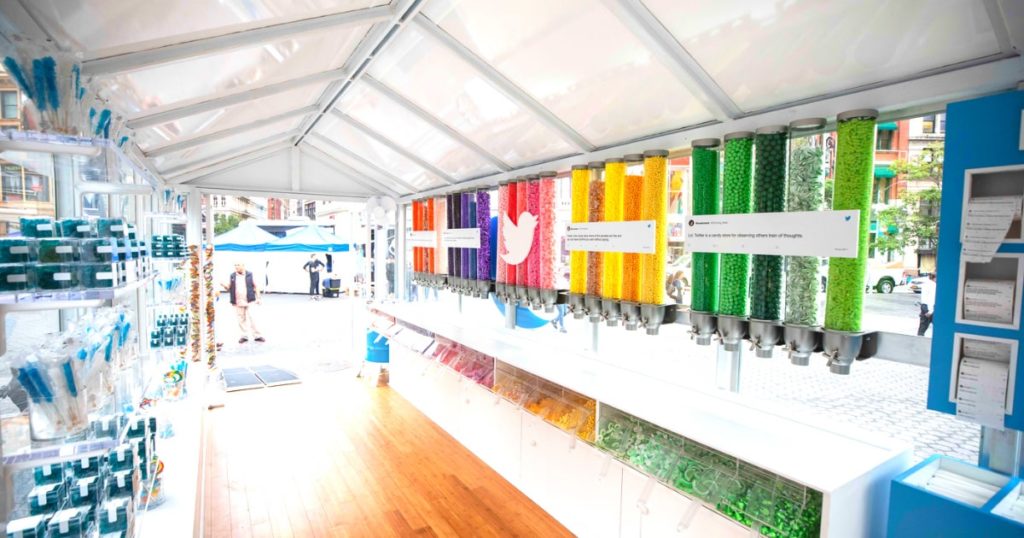 WHY?
So why would you choose to invest in an experiential marketing event? Well, it's proven to be the most effective form of marketing to create brand exposure, establish an in-depth relationship with consumers, create brand loyalty, and lifelong customers.
Whether you are a well-established brand, new right out of the gate, or have a new product your consumers need to see or touch, YOUR BRAND NEEDS TO BE SEEN AND HEARD!
People need more out of a relationship than just surface level. When you make an effort, go out of your way, or offer gifts to consumers you begin to speak their love language. You CREATE RELATIONSHIPS THAT ARE REAL AND MEANINGFUL.
When you have proven that you care about your customers – you're in. You make your way from being just another brand to being at the top of their mind. They emotionally feel a connection to you and become loyal and lifelong consumers.
We dig in real deep to WHY experiential marketing is important HERE!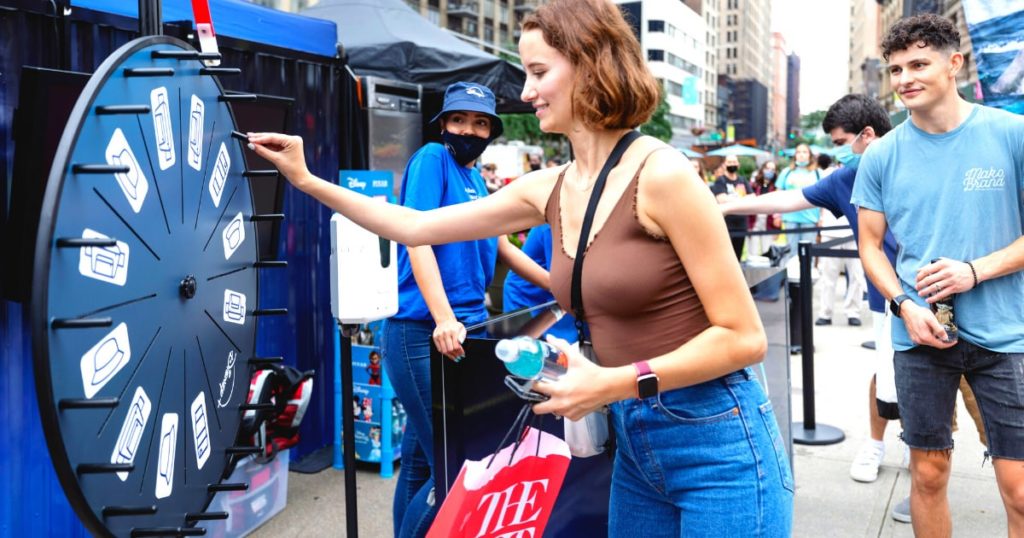 HOW?
When you're planning an experiential marketing campaign, you need a budget, a target audience, and a goal. In the planning phase, you need to determine how you will reach all five senses of your consumer.
Think about what experience you want to create and what you NEED to create it.
Do you need a custom trailer? A stage truck? A glass box truck? Giving away free samples, hosting a personal meet and greet with a popular influencer, entertaining with music, incorporating VR, or entertaining them in ANY way is sure to WOW them.
You have to think about the experience you want the consumer to have and the feelings you want them to walk away with.
WHERE?
There are many places you can activate your experiential marketing campaign. "Activate" is just a fancy word for the moment the experience or event takes place. Professional sporting events such as the super bowl, college football games, or major golf tournaments are a great place for certain brands. Music festivals are a huge hit for experience marketing. Big city landmarks such as Times Square, the Santa Monica Pier, or the Las Vegas Strip are popular places to reach consumers.
When choosing a location, you need to ask yourself, "where will my target audience be?" Then it's simple… go there. Keep in mind, the location of your experience will depend on what makes sense for YOUR brand. Learn more about choosing the location of your experience HERE!
WHEN?
The how, where, and WHEN all work hand in hand. They all depend on each other. WHEN you choose to activate will be determined by your how, where, and why. When ideating, think "what time of year makes sense for our brand?" and "what goals have we set for this experiential marketing experience?" Pay attention to the answers to these questions and make sure the time of year, month, and time of day makes sense for what you are trying to accomplish.
Easy Example – The launch of a new sunscreen at the end of spring/beginning of summer. It wouldn't make much sense to do this in December.
Next Level Example – Let's say you have a new piece of fitness equipment that will change people's fitness and health life by purchasing this item and using it in the comfort of their own home. When are people motivated most to lose weight and get healthy? NEW YEARS! Resolutions in January to get fit and healthy are a great time to launch any new and upcoming wellness product!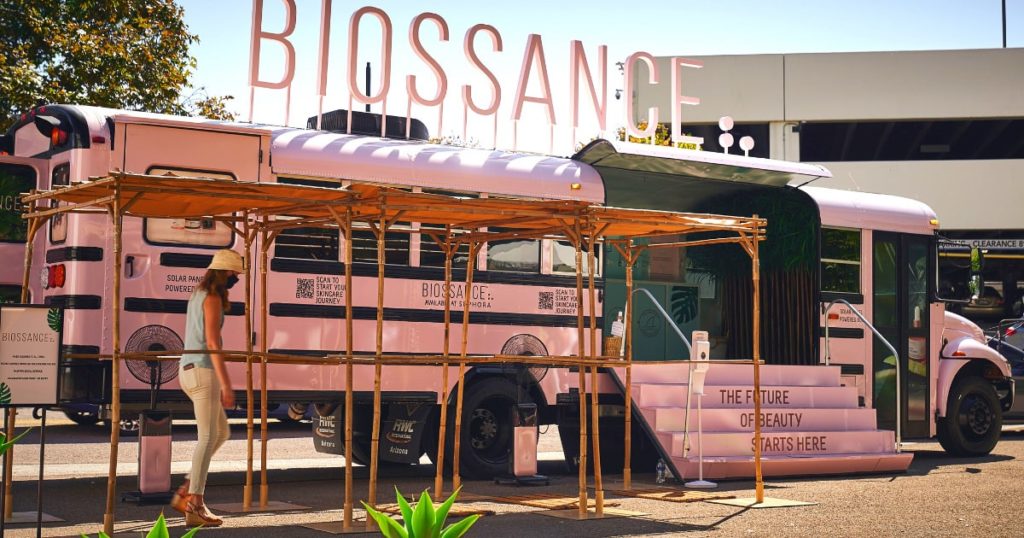 CASE STUDY: BIOESSENCE
Pop Up Mob is an agency that creates incredible pop-up experiences for consumers. Their client, Sephora, and the brand Biossance needed to educate consumers about their product.
Why: To educate the audience about squalene and skincare and to provide exposure for the brand.
How: Pop Up Mob reached out to Lime Media to produce a mobile beauty bus. A luxury spa experience was created inside a school bus! How cool is that?! Consumers were able to learn about skin products as well as try them on right then and there.
"We love using the school bus for activations because you have a lot of creative freedom. This project turned out clean, sleek, and pristine. The perfect ambiance for the Biossance brand."
-Katie Worden, Lime Media Marketing
Where: Strategically placed at Fashion Valley Mall near Sephora in San Diego and New York at Sephora in Times Square.
When: October of 2021, over the weekend for exposure to weekend mall traffic.
This campaign was pretty in pink!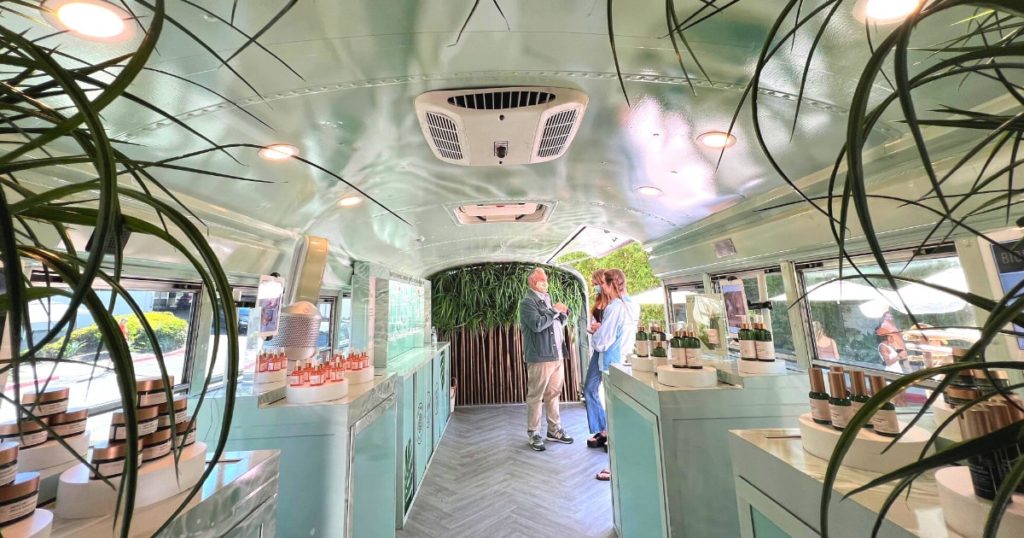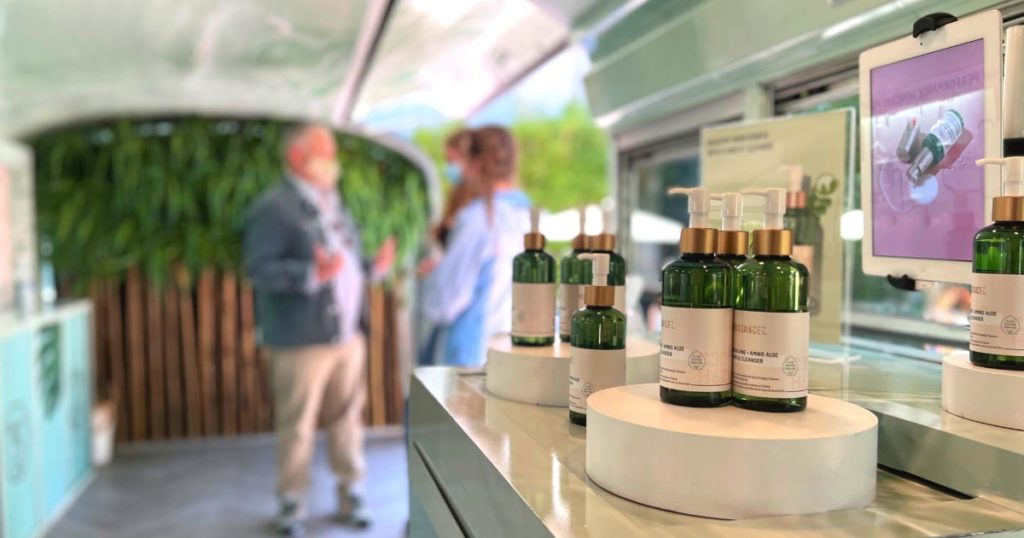 TAKE A STEP
If you're curious about or considering running an experiential marketing campaign, you need to partner with someone you can trust.
You deserve to have a partner that will provide quality work, creative work, and produce it on time! You need a partner that will be transparent in communication every step of the way.
Lime Media is a trusted agency that understands YOU need to blow YOUR clients away and you need to meet YOUR client's needs. All you have to do is schedule a call, join the Lime Media team with ideating and planning, and then the production team will go to work for you to help YOU win! Pick up the phone for a quick call today! (972) 808-5241 or shoot an email to info@lime-media.com.