People don't get hyped-up about commercials or ads anymore. Consumers have become experts in blocking pop-up ads and skipping commercials altogether. On top of that, people feel they don't have time for things if it doesn't directly benefit them. You're reading this because you searched google for something very specific, you need information, and you need it NOW. So, let's get straight to the point!
IF YOU DON'T…
Experiential Marketing is important because if you DON'T do it:
Your competitors will, and they'll get ahead.
You'll miss out on increasing sales by a large margin.
You won't establish a genuine connection with your consumer.
You won't have the best chance at creating a long-lasting, loyal customer.
IF YOU DO…
If you DO choose to invest in an experiential marketing campaign, then you are taking the extra step consumers want and need. You are showing you care and that you are willing to do something special for them. As a result, they will become emotionally involved with your product, brand, or service. Yes. It's a TWO-WAY relationship.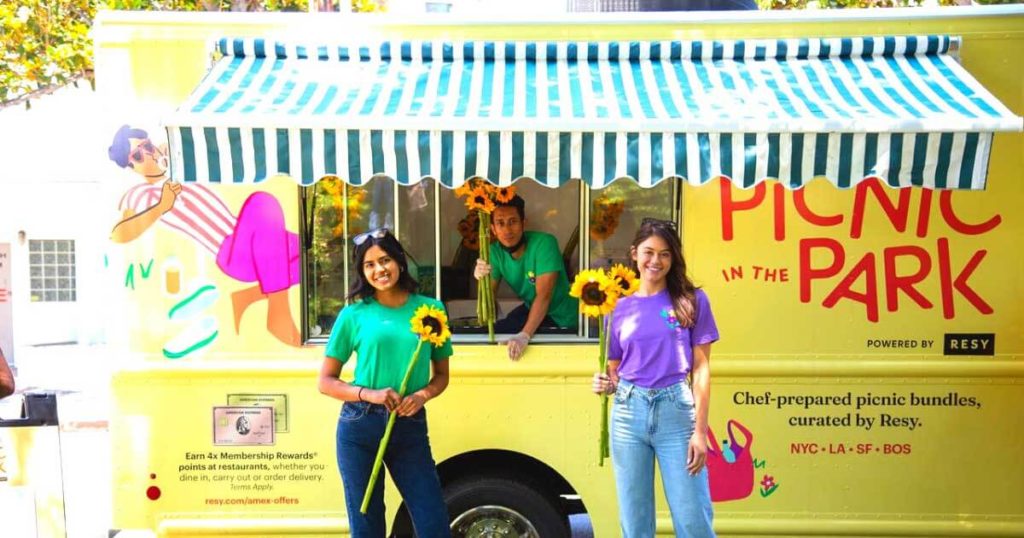 IT'S LIKE DATING.
Remember the beginning of a relationship where you felt butterflies, the adrenaline rush, the excitement? That's the EXACT emotion you need to create in your consumers so they FALL IN LOVE with you!
Remember the days of pursuing your significant other? You wrote special notes, sent them flowers, opened the door… you went out of your way and made them feel special. You wanted to impress them! Hello!? This is what your consumers want and need from you. PERUSE YOUR CONSUMERS!
BUT CAN YOU?
Can you make such an impression on your consumer that they become crazy loyal to you and want to tell everyone about it? Yes, you can. I mean, ask any loyal Apple consumer.
Can you give consumers a taste of what life would be like using your product or service so that they can't imagine life without it? Yes, you can! With experiential marketing.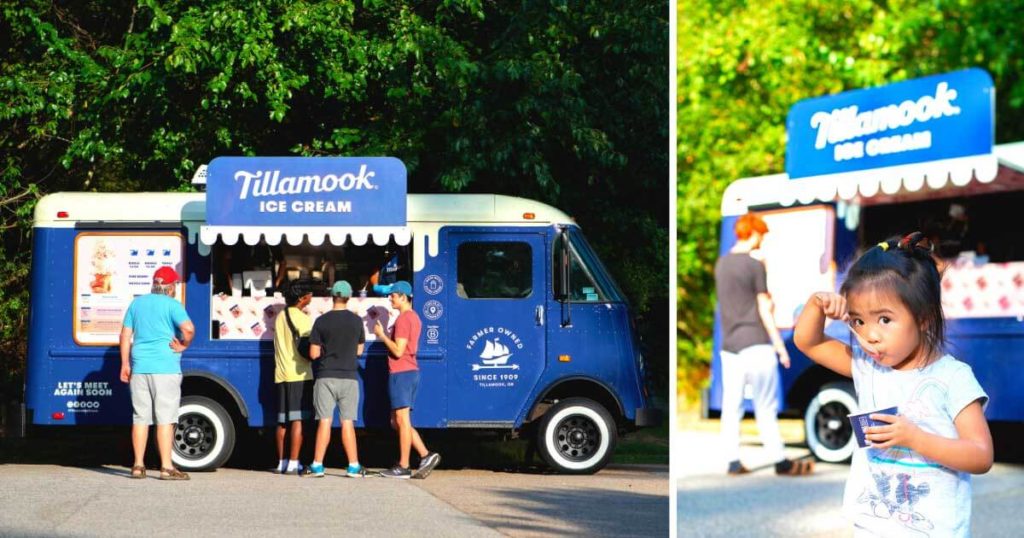 THE BUDGET
If you are serious about taking things to the next level and you don't want to allow competitors the chance to win the hearts of YOUR consumers, so you need to plan for an appropriate budget. You need to think long and hard about the risk you take by NOT allowing a suitable budget. Research shows that in 2022 CMO's plan to dedicate 20-50% of their marketing budget to the experiential marketing envelope. Yes. 20-50%.
LET'S DEFINE IT
OK, so now you get the importance of experiential marketing. You've heard this term "experiential marketing" but… Confession time… you need an explainer. YES! You do and that's totally ok!
Everyone has a different definition of this term. It's also referred to as consumer experience marketing, engagement marketing, or event marketing. Do you see a common thread? No matter what you choose to call it, this type of marketing can't be seen on a billboard or TV commercial. It can't be read in a magazine or on a postcard.
This type of marketing puts a real-life human being, the consumer, in a real-life EXPERIENCE with your product, business, brand, or service. They get to try you on for size! They get to taste, smell, feel or touch what you have to offer. Food, clothes, beauty products, new movie release – whatever it may be, you get to reach the "feels" of your consumer!
WHERE TO EXECUTE EXPERIENTIAL MARKETING
XM, or experiential marketing, events can happen anywhere you want, wherever your target audience is:
Business event
Festival
Concert
Trade Show
Award Show
Movie Premier
Mobile Tour
Pop Up Shops or Mobile Retail
EXAMPLES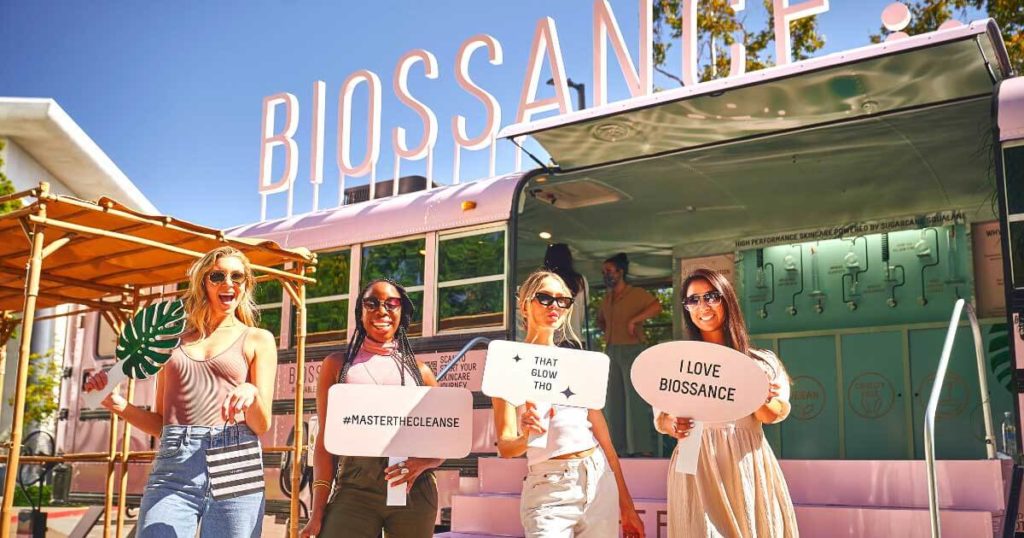 Brand: Biossance
Experiential: Pop Up Product Distribution
Purpose: Product launch, education, and awareness
Asset: School Bus
Summary: Biossance put on an awesome pop-up event to showcase their skincare company and educate everyone about Squalane, a head-to-toe moisturizer that Biossance makes from sugar cane. This pop-up hit two markets, San Diego and New York. The brand used a school bus as its platform. They turned a school bus into a luxurious skin care oasis. The bus allowed consumers to try out the product and experience the luxury and benefit it provides.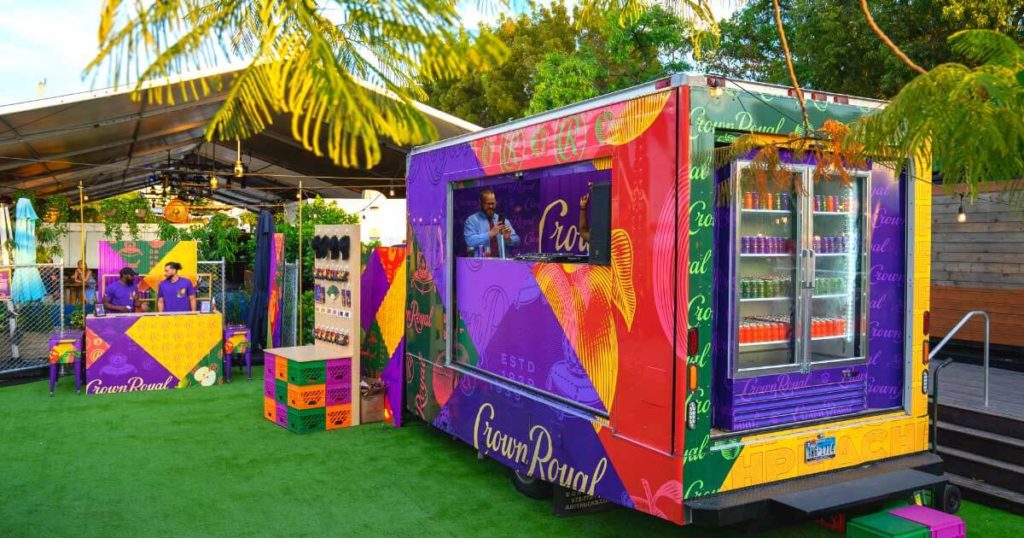 Client: Crown Royal
Experiential: Multi-Festival Tour
Purpose: Product Awareness
Asset: Custom Glass Box truck
Summary: Crown Royal was ready to hit the road with their new flavors in a can. They decided to hit up several music and art festivals to bring a good time to the people! What was super cool about this activation, which is just a fancy word for the cool event, is that they took a glass box truck and made it the central party hub. This typical glass box truck was transformed by adding a display refrigerator at the back, a DJ booth, and a merch booth. Giving out free samples, playing hit music, and creating a fun atmosphere drew in consumers. They were able to have a great time, taste the product, and become lifelong Crown Royal drinkers.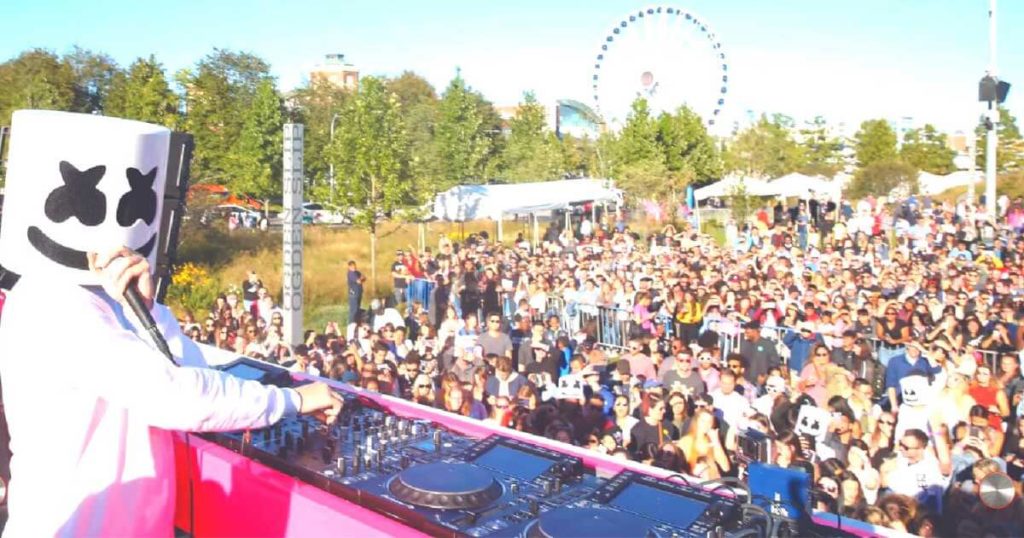 Client: Victoria Secret
Experiential: Influencer Pop-Up Events
Purpose: Raise awareness surrounding the Victoria Secret, Pink brand
Asset: Open Top Double Decker Bus
Summary: Lime Media's custom double-decker bus traveled to multiple stops in Chicago with recording artist Marshmallow atop the roof to provide pop-up concerts to partner stores. The day culminated with a full concert at Navy Pier for Victoria's Secret fans. The bus then hit the road to New York, where it traveled around Manhattan for three days and also visited the "GRL PWR" mural Victoria Secret constructed in Brooklyn.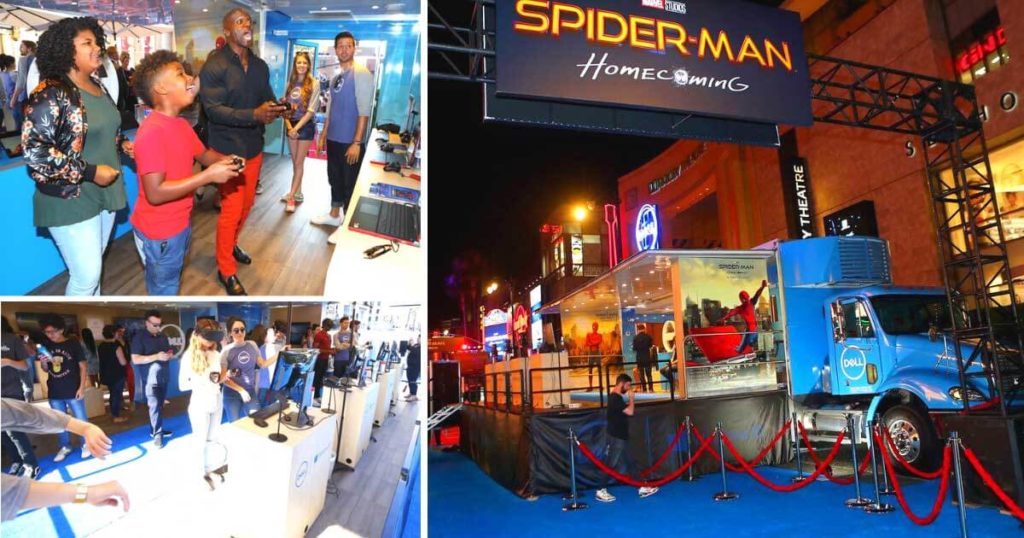 Client: Dell
Experiential: Movie Premier
Purpose: Cross-promotion with Dell and Spiderman
Asset: Stage Truck  
Summary: To highlight a cross-promotion between Dell and The Amazing Spiderman movie, they utilized a sleek, modern showroom to highlight some of their most powerful and innovative technology. The truck was showcased on Hollywood Blvd during the red carpet premiere of The Amazing Spiderman. Both consumers and movie stars had the chance to interact with some "Amazing" new tech. Consumers were invited to interact with Dells' new VR-capable laptop. Terry Crews even stopped by to show off his gaming skills alongside consumers visiting the premier.
THE WHY
This all sounds really cool but you are a "why" kind of person. We get it! Well, here are the reasons why:
Authentic Relationships. You are pursuing your consumer. You gain one-on-one interaction with them. When you build REAL relationships with people, they see the human behind the product or brand. This connection helps them to become regular customers.
Engagement. Who doesn't have a phone on them and who doesn't have social media? When consumers are having fun, are surprised, and blown away by the experience they want to post it all over their social media! FREE ADVERTISING! Social media likes, shares, and follows increase. You can even take your relationship with the consumer to the next level by responding and engaging back!
Better ROI. Research shows that 74% of people feel more positive about a brand after an experience. 65% went and made a purchase after the event for the promoted service or product. 70% become regular customers.
Data = Knowledge = Power! When you charm the consumer at an event, they are highly likely to share information, take a survey, or enter a contest. This generates data that allow you to dig into consumer research. Once you have the permission to email, text, and survey, what you can do with the data is truly endless. What do they like? What do they not like? What age group should be your focus? What areas in each market should you target? This key point is often overlooked, but it's GOLD when it comes to raising the bar.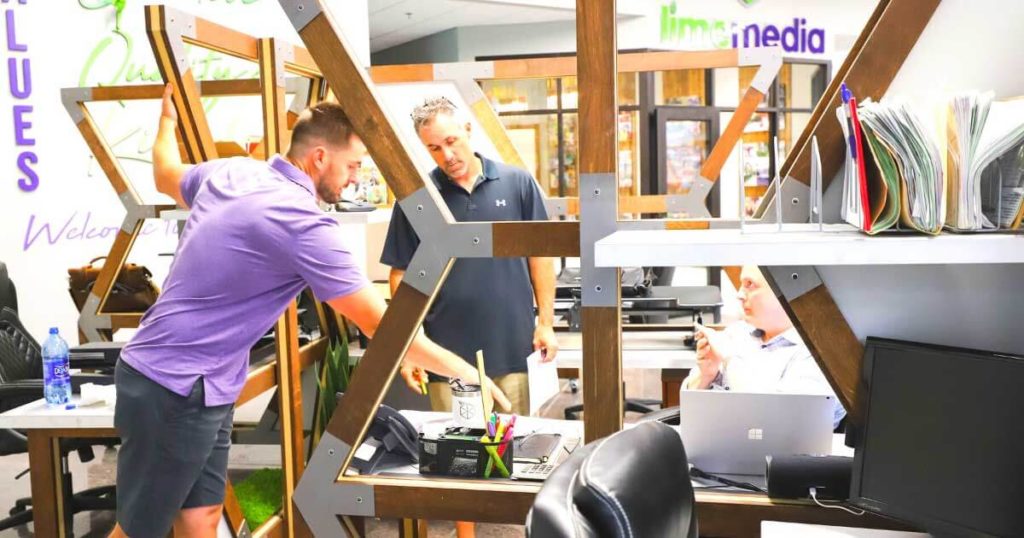 THE GOOD NEWS
The good news is you don't have to be an expert to pull off a successful experiential marketing campaign! You need to find a good experiential marketing agency that will take care of all aspects from procurement of the asset to permits and routing.
The OTHER good news is, Lime Media is a trusted experiential marketing team. Lime Media can bring your ideas to life and customize vehicles and other cool stuff to create marketing experiences that will reach the heart of your consumers! info@lime-media.com | (972) 808-5241