We are a month away from football season's most exciting time of the year! Whether you're a fan of the game or a fan of the snacks, it's an anticipated time for sure. Sports generate the unique opportunity to spark passion and impact our culture. Because of this, fans have a high expectation of the experience that comes along with sports, making this one of the best times to capitalize on experiential marketing!
Why choose XM?
The key to marketing remains the same as it has always been; to stay relevant. Not only do experiences bring relevance to your brand, but they allow you to stand out. Over 112 million people somehow engaged with Super Bowl LVI, and over 3 billion people tuned into the 2020 Tokyo Summer Olympics. Sports continue to provide a common ground for all. Now is the peak time for XM!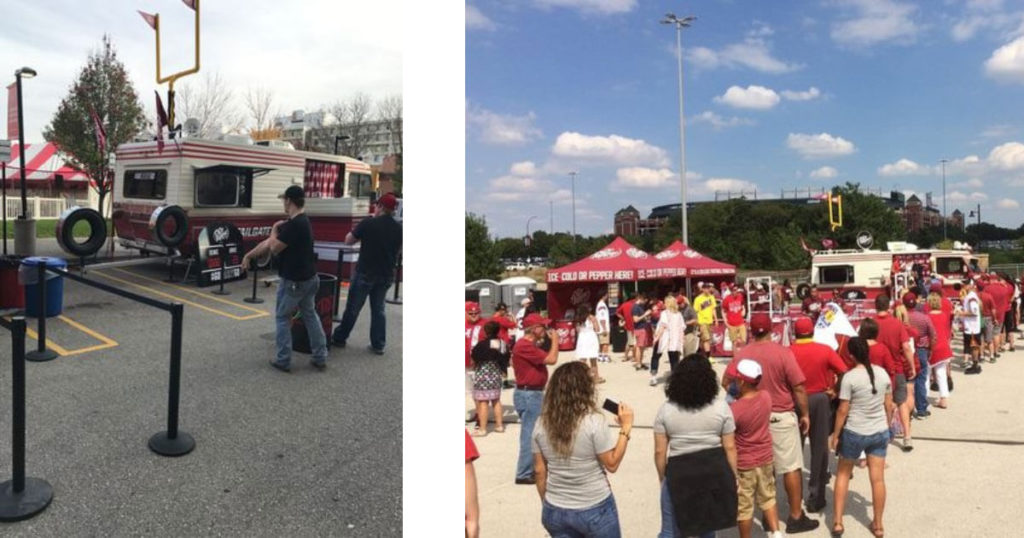 Capitalize on the Fan Experience
Picture this. Fans arrive two hours early to tailgate for the biggest football game of the season. They're full of energy and excitement, confident that their team will prevail. Upon arrival at the official tailgate, they see your brand activation. How will this impact your brand?
Fans trust the teams they support. Sports teams often have the most influence over their fans' decisions. You're automatically trusted by the audience by having a presence associated with one's beloved team.
Why do people attend sporting events? They want to feel the excitement, feel closer to the action, and be a part of the game. This is the perfect opportunity to piggyback off the energy already created around the sport! Your brand can invoke this emotion with fans as well! Build your activation around the authentic game experience. Have attendees compete in challenges, provide samples of tailgate-style food, or give away branded items that are useful during game time. Bonus points if the freebies make noise! These options build on the excitement already present for sports fans and will benefit their relationship with your brand. It's no longer enough to put your brand on a promotional sign or run an ad during the commercial break. Brands need to interact with audiences.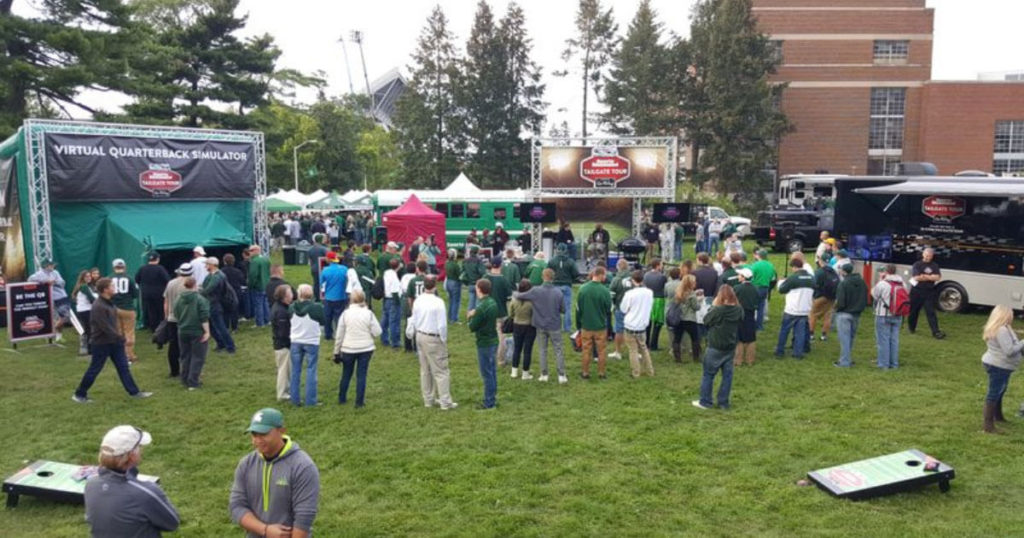 Ready, Set, Plan!
Getting started with the process of creating an experiential marketing event targeting sports fans can be the most challenging part of the process. The key is to plan. Have your marketing strategy solidified and ready to go at least a month in advance. What event will you be promoting? Does the event match your target audience? How are you going to invoke participation? What will your brand do to reach your audience? These questions are essential when planning an activation at a sporting event. Think about it. Fans aren't there for your activation, but your job is to draw them in.
PROMOTIONAL CONTESTS
Promotional contests are one of the most effective ways to create participation with your brand. Weeks out from the game, create a contest where the winner will get tickets to the game. If this isn't feasible, you can give away swag and VIP access to your tailgate area. Contests will initiate buzz for your brand early! Not only will fans be excited about the possibility of winning, but they'll also interact with your brand in the process!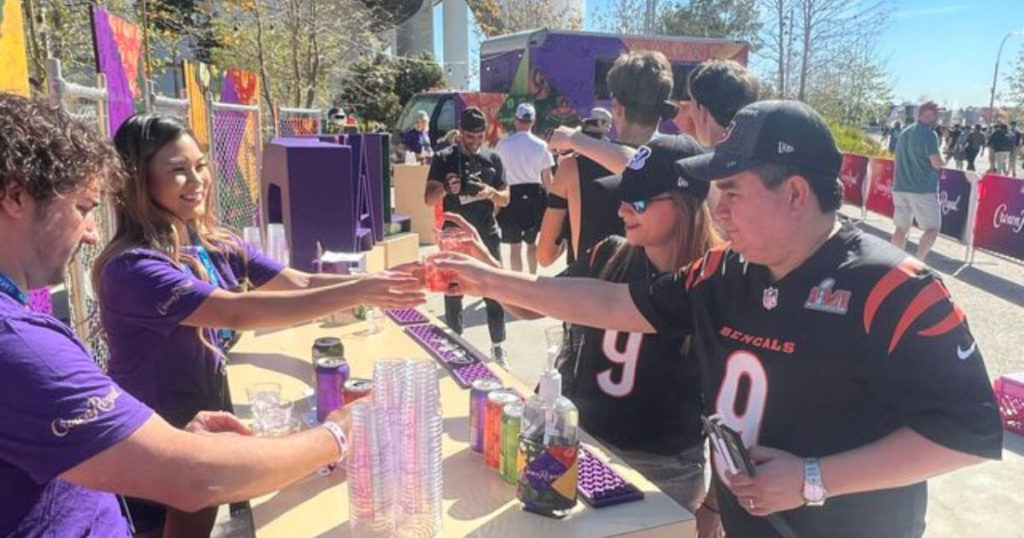 POP-UP SAMPLING
What do sports fans value most during their tailgate experience? To be straightforward, food and booze. Crown Royal took advantage of this and provided the ultimate tailgate setup for Super Bowl fans. They set up a bar, handing out drinks for fans! They also incorporated iconic tailgate games, such as cornhole, to complete the experience. They created a fun atmosphere AND a positive experience for attendees. The same can be done using food, nonalcoholic drinks, and more. This is where your creativity shines!
GAMES
Fans love good ol' competitive fun! Brands can take advantage of this energy by including games in their tailgate events. This broad concept creates many possibilities. Giant Jenga, a prize spin wheel, life-size connect 4, or even a huge branded Plinko, the sky is the limit! You're successful as long as the fans enjoy interacting with your brand! The most successful brands make the most memorable experiences.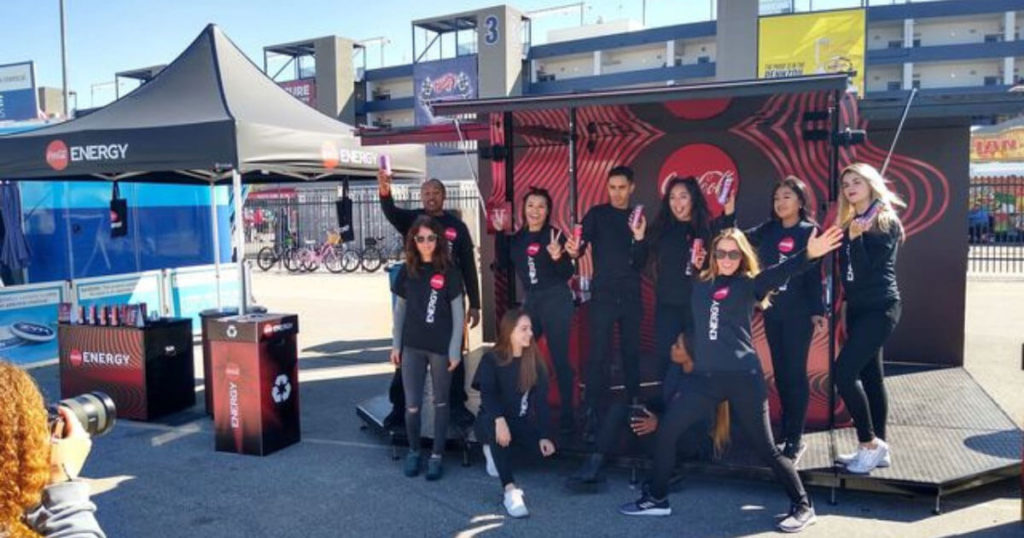 Leave it all on the field. Football season is fast approaching, and Lime Media is here to help! Take advantage of the community football brings and produce a successful tailgate event today.