It's the Most Wonderful Time for Experiential Marketing
The past couple of years have been different during the holidays. Right now is the perfect time to bring fun back to the holidays! Holiday season is here and quickly approaching! It smells like cookies and the weather is getting cooler. Tis the season for holiday marketing! Something about the season brings holiday cheer but also a long task list. We know how important it is to plan your marketing campaign and watch it come to life. It is so easy to get caught up in the work and forget to bring imagination to the table. Lime Media is here to provide fresh ideas that are guaranteed to make a wonderful experience for your audience. Here are a few tips for your next campaign.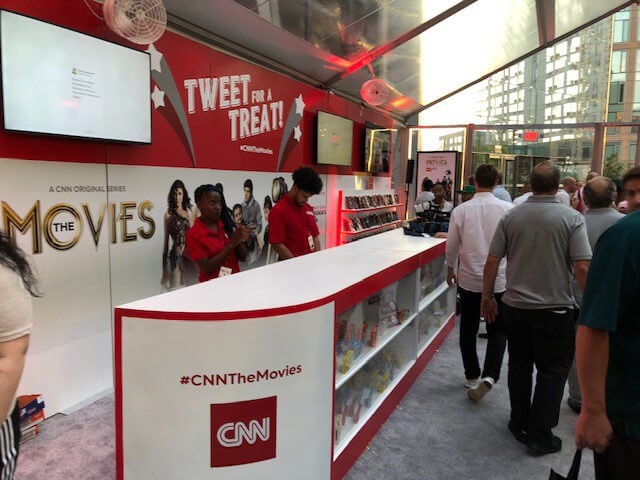 HAVING A CAMPAIGN TIMELINE
It is vital to have a set timeline for your campaign. This way you are able to stick to the schedule and see your marketing tactics playout. With a timeline you have a visual for target audience, goals, and budgeting. Target audience is essential when executing a holiday based campaign. There are so many different events and holidays to celebrate. With a timeline you are able to manage where your campaign will be and which event is the best for your business needs. A campaign timeline is helpful for organizing, but also creates work efficiency for team members. The holidays can change on a dime so having a set schedule, a sense of urgency, and a plan will make the campaign run smoothly.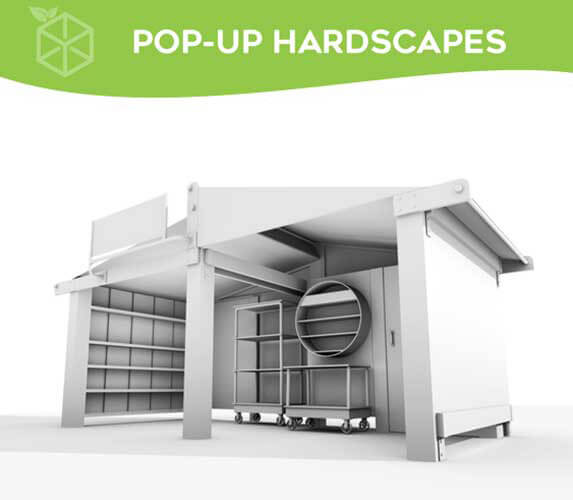 I NEED HELP VISUALIZING MY ACTIVATION
Creators tend to be visual people and learners! We want to be able to provide a picture of your idea. Renders are 3D images created for you to see your campaign before it hits production. Renders can be created to capture every angle of your campaign. There can also be videos made to create a mockup of your actual event! The best part about renders is that you are able to visually see your campaign and request edits and or changes. This service alone can help you maintain your timeline and keep an efficient work flow. We all know that last minute changes can cause stress on a team and the campaign. Lime Media knows you don't need additional stress during the holidays season. That is why we offer in house renders customized for your specific needs.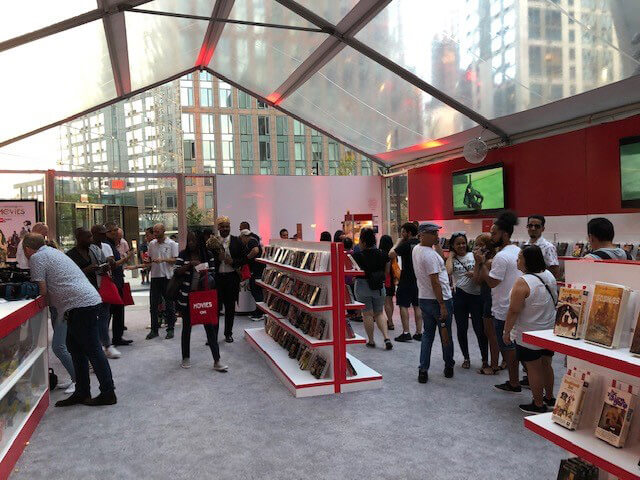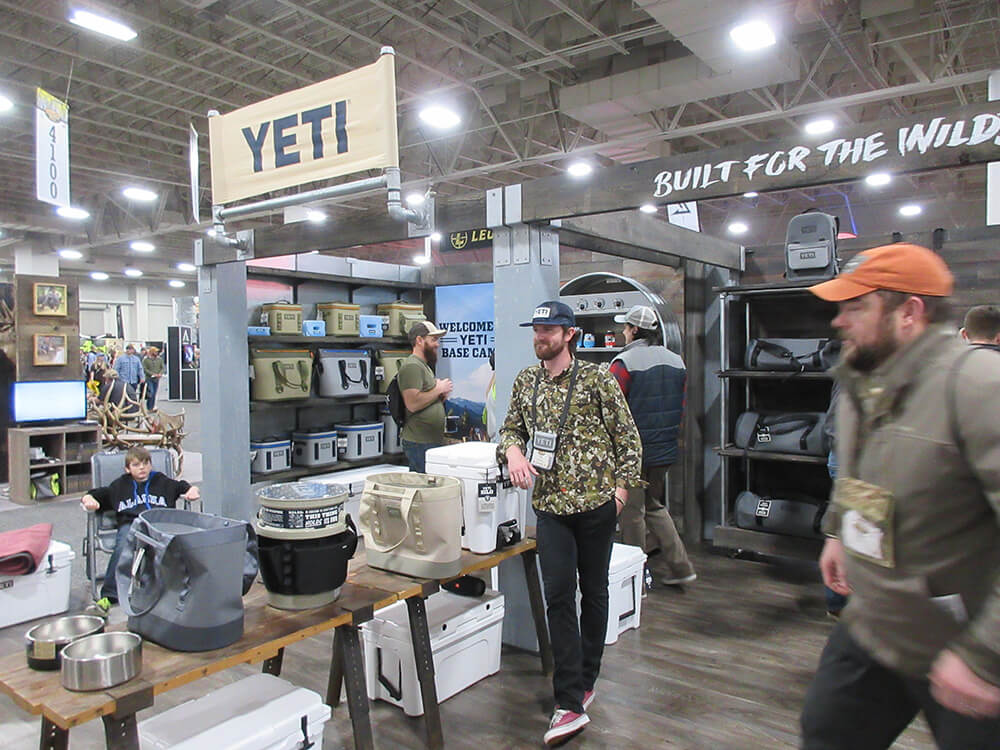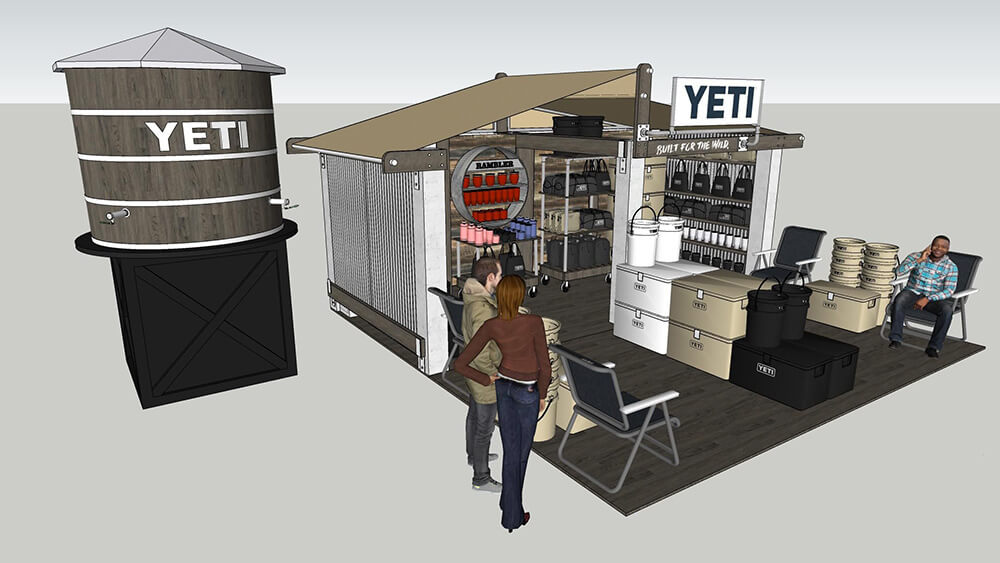 WHY A HARDSCAPE?
We have multiple assets to offer but our favorite for the holiday season is a hardscape! A modlar hardscape is a fully customizable asset. It consists of a moveable wall system for any indoor or outdoor activation. This is a great option for pop up retail or a Santa picture prop moment! An added benefit to this option is that you can make it your own. From the wall finishes, to the floors and even the type of roof you have, the choice is yours. We also offer the following:
Rapid activation setup/take down
Clear acrylic panels and walls
Optional tent or canopy covering for roof
Great option for large vinyl wrapping to represent your brand
Customizable to fit a variety of shapes and sizes
MUCH MORE!!
EXAMPLES OF HARDSCAPES!
We have utilized quite a few hardscapes here at Lime Media. YETI tasked us with creating a pop up retail location. They wanted a rustic finish to their store that would resemble a brick and mortar location. Our creative team designed renders to show our clients different ways to assemble a hardscape. This was an amazing way for them to actually see their options and go with the one that best fit their needs and vision.
CNN hosted an event to showcase famous films that have shaped our entertainment industry called, The Movies! They wanted to create a memorable experience for the public to come in and simply have fun. They chose vinyl wrap for their modular hardscape to showcase a variety of movies and a tent for their roof. They were able to create a pop up location and had food and actors ready for the show!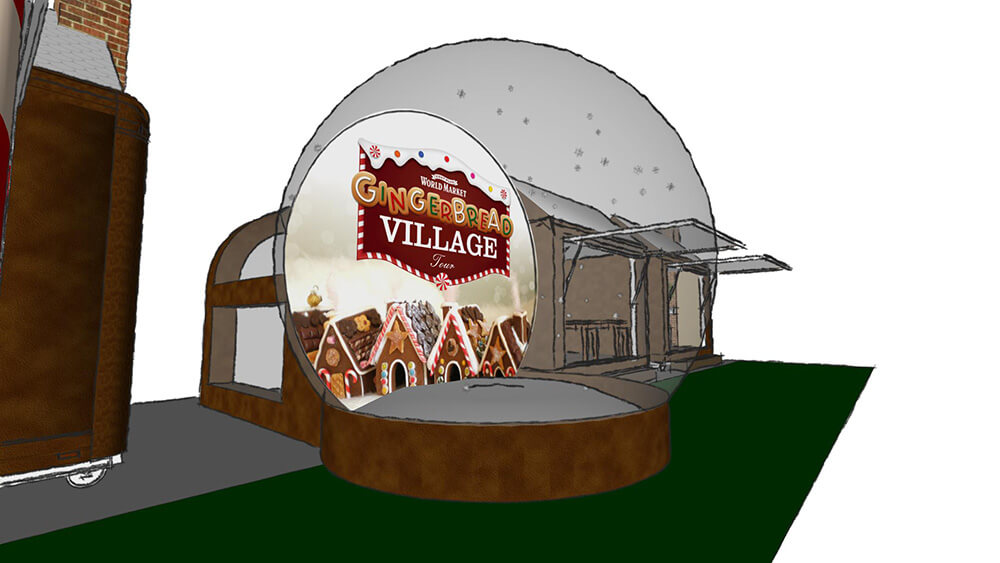 WHAT CAN WE DO FOR THE HOLIDAYS?
We can't stress enough that the possibilities are endless and we are here to think outside of the box! Whether you are in New York or Miami, you can spread holiday cheer with our transformable hardscapes. You could have a giant present in the middle of Time Square with your brand. An amazing way to engage with your customers and create brand awareness is to bring your store to them. The present can be a retail pop up store and a great photo op section for social media content. Another holiday inspired hardscape, is a life size snow globe. How amazing will that be for any bystander or client!? Picture this, a snowglobe wrapped with vinyl representing your location or with Santa inside of it. This is guaranteed to spread smiles and happiness. This asset can be set up inside or outside your pop up location. Your brand will be a jolly memory for the audience and will make them come back for more!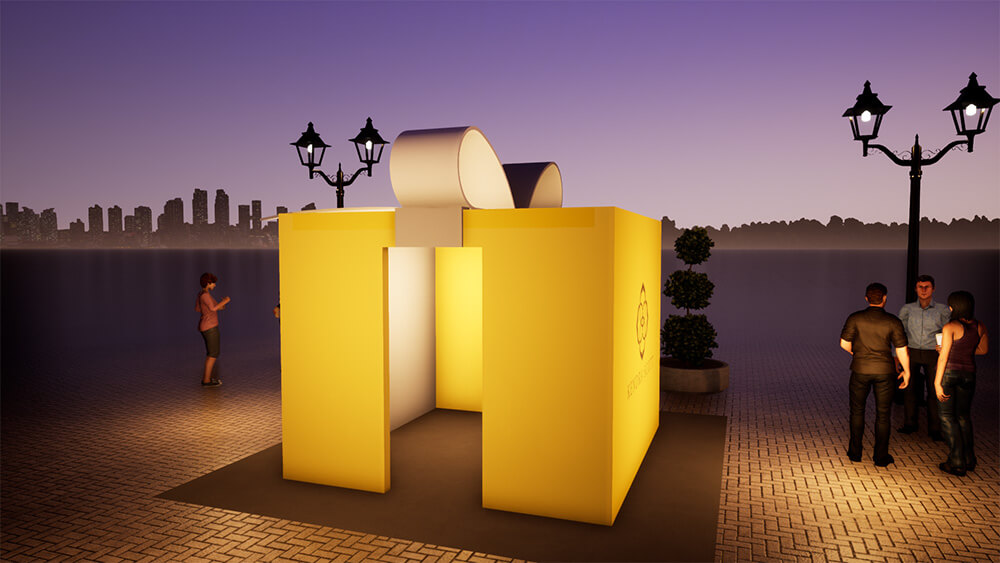 BENEFITS FOR SOCIAL CONTENT!
A picture is worth a thousand words! The holiday season is the perfect time for social media content for your brand. You can create brand awareness with hashtags, logos and taglines. The hardscapes can be created to be a perfect background for holiday shoppers and the public. These images are great for your social media platforms and to recap amazing memories!
At Lime Media, we love the holidays and we are here to bring your imagination to life! Let us know how we can assist you and be part of your Christmas cheer. Make sure to check out our site at www.lime-media.com or contact us at info@lime-media.com or (972-808-5241).