YOUR BUSINESS OR BRAND ON WHEELS
It's not new news. We all know COVID hit and made us all think outside of the box. How do we reach our customers? How do we stay in business? Maybe you figured it out, or maybe you only have it figured out for the short term. Either way there actually IS a SMART long term SOLUTION. Take your business on the road with an RV!
WHY AN RV?
Because you can take your business anywhere, at any time and provide convenience to your patients, customers, or clients. The sky's the limit when it comes to utilizing an RV for your business. You can set it up however you want and need. Multiple rooms, technology, equipment, furniture…whatever your need- you can create the perfect mobile solution. Really anything you can imagine is possible. All you will need to start is an idea. Then, you just need to find the right people to plan and execute that plan. (Psssst….we know the right people! Lime Media of course! But let's stick to learning why using an RV can take you to the next level.)
WHO CAN BENEFIT?
Anyone! From an optometrist, to a massage therapist, or even a mortgage lender, ANYONE can benefit from a business on wheels. It's really simple. Take your current place of business, pick it up, and put it in an RV.
Pet Grooming, YES.
Hair salon, YES.
Counseling Center, YES.
Boutique, YES.
Book Shop, YES.
Photography Business, YES.
Ok, ok, you get the idea! ANYONE can take advantage of this fun and unique way of business.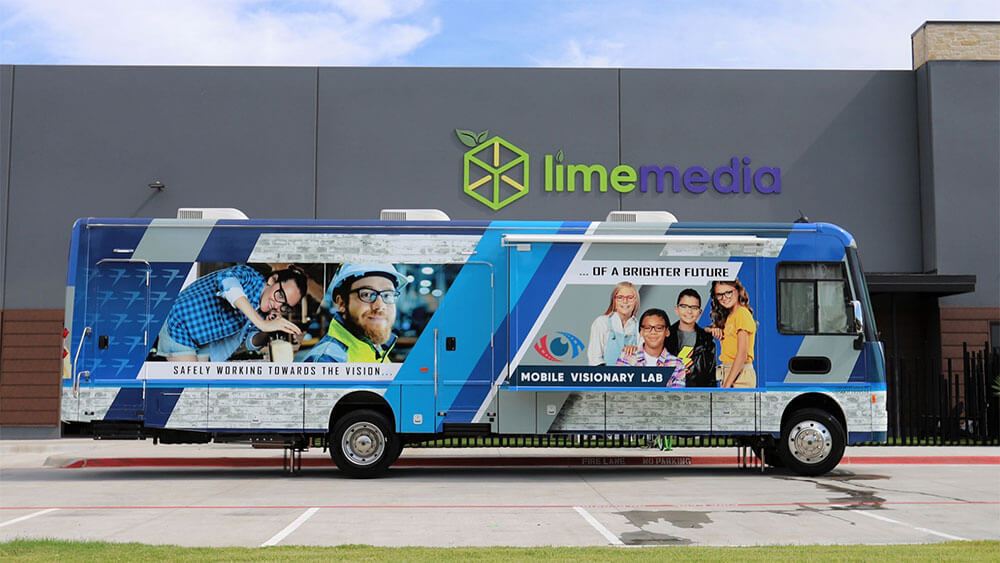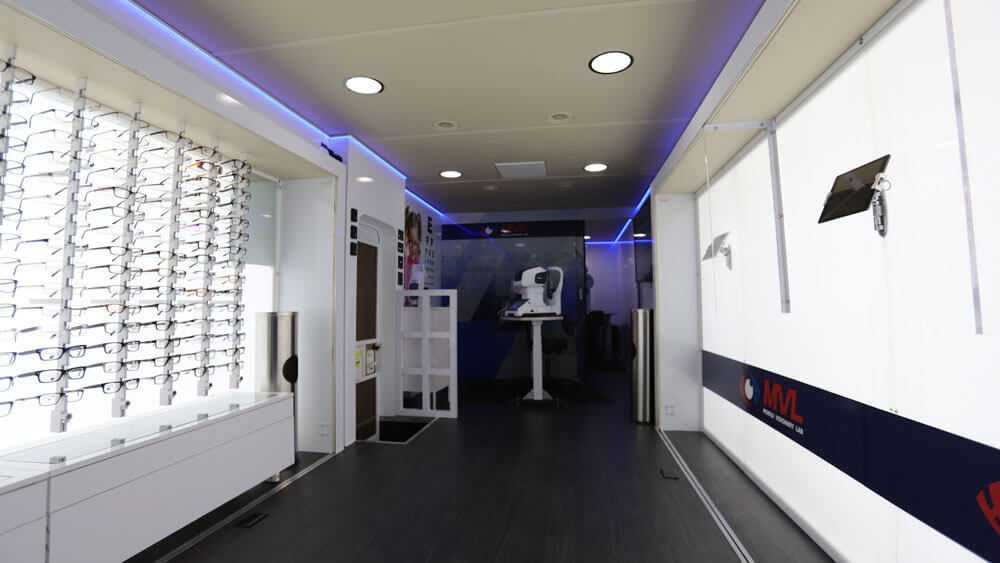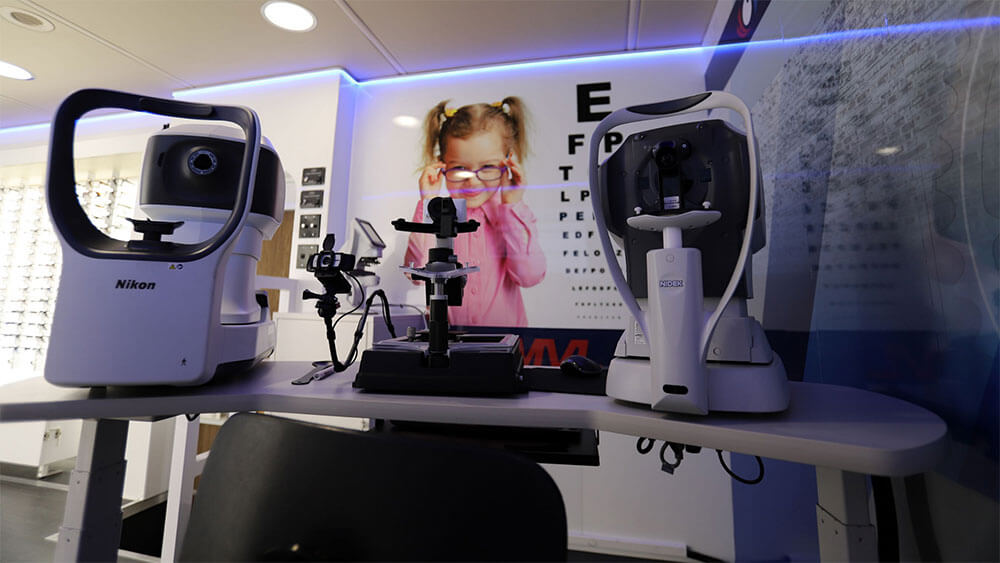 Do you know how expensive it is to lease a brick and mortar for your business!? To own one!? Real estate is CRAZY expensive. Think of the return on investment if you were to own your own RV and have the freedom to be anywhere at any given time? The most important aspect is that you could be providing convenience to those you serve. If you are wanting an efficient and effective workspace that makes sense in these post pandemic times, an RV is a smart solution.
LIME MEDIA CASE STUDY: MVL
The Mobile Visionary Lab is a mobile solution for businesses that need prescription safety glasses for their employees. MVL discovered a worldwide problem. Millions of people have a job that requires them to work in challenging or hazardous conditions. However, they do not have the time or resources to obtain proper prescription safety glasses. Enter Mobile Visionary Lab with the solution.
First – Let's talk about the RV. The custom RV has two separate rooms. The first room has 3 ipad check-in stations, 2 large flat screen TV's, an entire safety eyeglass frame display, and all of the necessary equipment to test patients. In the second room of the RV there is a flat screen TV where the remote doctor communicates with the patient and the final portion of the eye exam takes place with a state of the art testing device. The RV is 100% custom fit for the mobile lab and completely takes the eye exam office on the road.
So here's how it works. The MVL RV arrives at it's scheduled time to provide remote eye exams to your business. It's a quick and easy 20 min process. The patient first picks out their favorite lenses and then meets with the local technician who performs all of the necessary testing in order to collect data for the doctor. The patient then moves to the next room to see the remote doctor. Once the prescription is finalized, the patient is able to head right back to work as their chosen frames are sent off to fit their prescription. The prescription safety glasses arrive directly at the place of business and are distributed right to the employee.
Convenience is key here. The busy employee never has to leave the job site, never has to take a prescription anywhere, or pick up the glasses once finished. The company ensures their staff is equipped with the appropriate safety equipment and that they are abiding by OSHA rules and standards.
Click HERE to experience the Mobile Visionary Lab customer journey!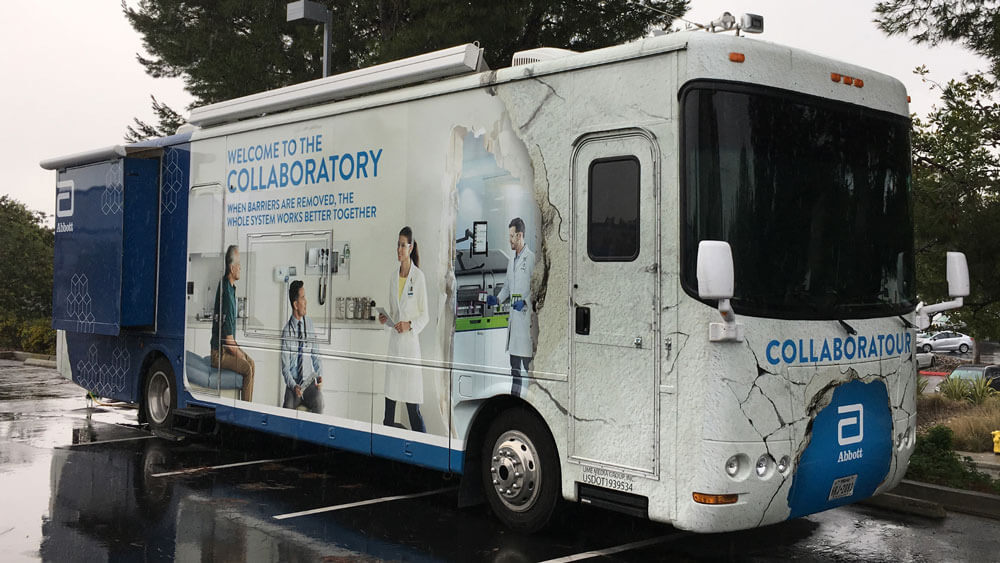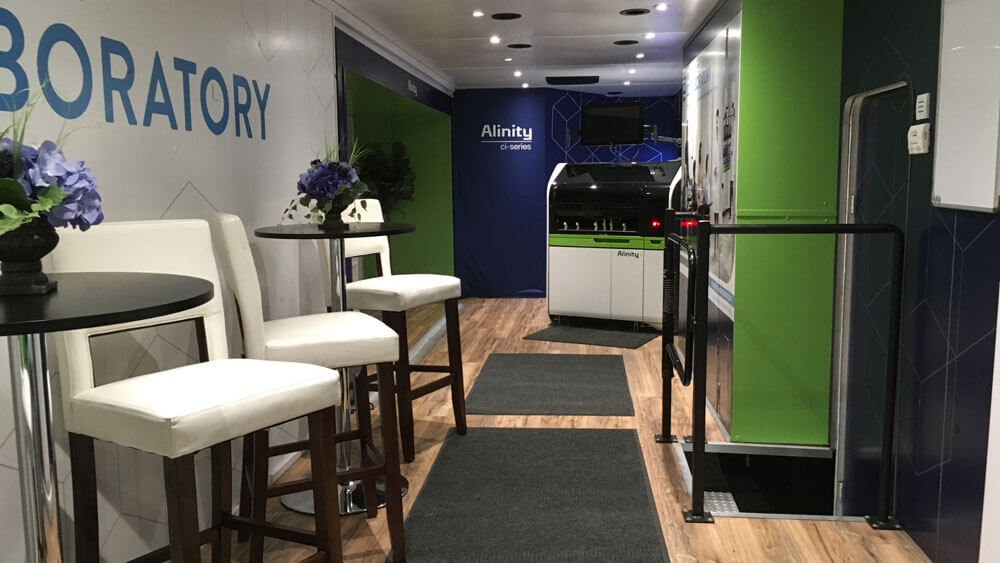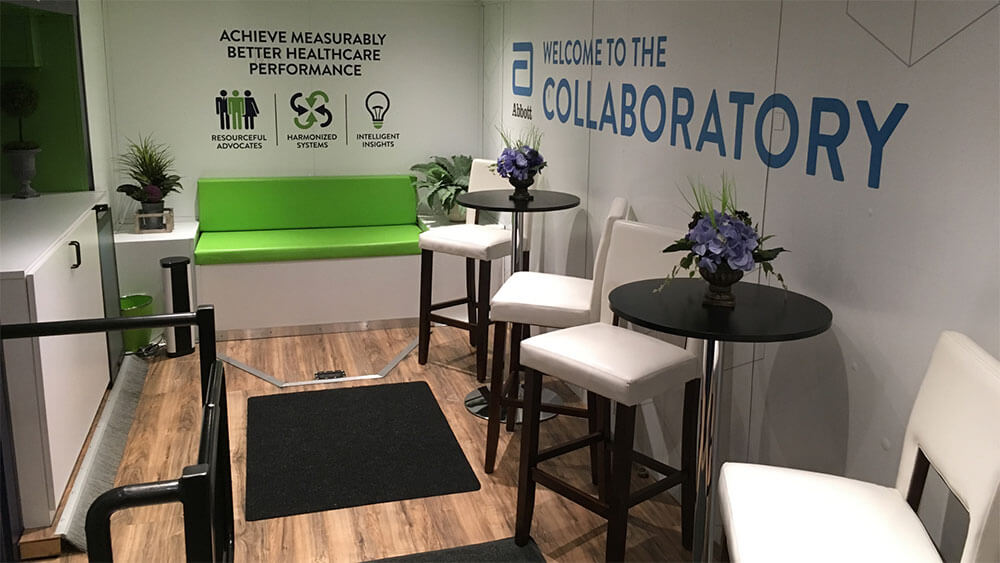 LIME MEDIA CASE STUDY: ABBOT LABORATORIES
Abbott Laboratories wanted to showcase their new medical device by transporting it across the country, TWICE! They visited hospitals, medical centers, medical laboratories, and urgent care centers in almost every major market. The RV met up with Abbott scientists and sales representatives at all of the locations and helped facilitate sales demos for the new machine.
The mobile laboratory is a fully customized 38' Double-door dual bump-out RV with a beautifully wrapped exterior and interior. The RV is outfitted with mounted flat-screen TV's, presentation hardware, pub tables, chairs, and a mounted Abbott Laboratories machine.
YOU'RE READY TO HIT THE ROAD WITH YOUR BUSINESS!
Do you see value in taking your business or service to the next level by hitting the road in a custom RV? Did you google how to take my business on the road? You have many options when it comes to getting your business rolling in a custom RV. HOWEVER, we know some folks who have done it time and time again and have fine tuned the process. At Lime Media, we can bring your dream to life. It just takes one phone call and we can start ideating, crunching numbers and planning your mobile business in an RV. It's easy to get in touch! Contact us at info@lime-media.com or (972) 843-5527). We can't wait to be a part of your mobile business journey!