EVEN IF You don't sell a food or beverage!
WHAT EXACTLY IS A STEP VAN AND A FOOD TRUCK?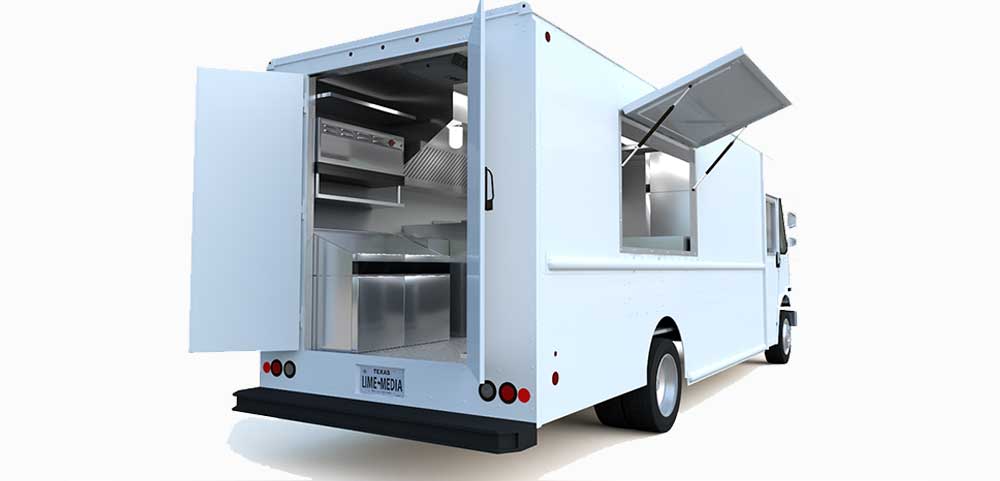 A Step Van is also known as a walk-in or multi-stop delivery truck. It's typically a light-duty or medium-duty truck created for local deliveries to residences and businesses. They are designed to be driven either sitting down or standing up, and often provide easy access between the driver and goods making it a "walk-in delivery" van. The term step van comes from the ability of the driver to easily step up on the low steps that are built under the doors.
A Food Truck is a large vehicle that is equipped with the ability to cook, prepare, serve, and/or sell food. These vehicles could have a full service kitchen to prepare and serve meals from scratch, or could house multiple freezers to sell popsicles and ice cream out of.
BUT HOW IS A STEP VAN OR FOOD TRUCK USED FOR MARKETING?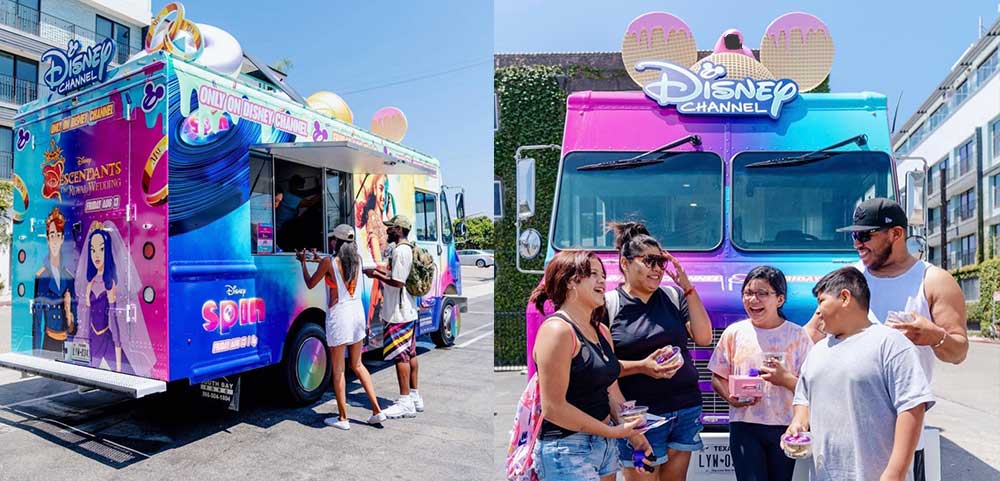 Step vans and food trucks are transformed into custom marketing vehicles every day, all over the world. In basic terms, a business, company, or brand will vinyl wrap the vehicle with eye-catching branding, stock it with promotional items to be distributed, and then drive from place to place looking for crowds to hand out free samples to. The purpose? To draw attention to their brand so that people know about it, think about it, and remember it.
The mobile marketing mission here is to go beyond traditional forms of advertising like print and actually make a real life, real time CONNECTION with people. A food-truck style vehicle is perfect for on-the-street distribution to consumers. The vehicles have the space for product sample preparation, storage, and transport.
These vehicles are available in a variety of sizes and are fully customizable to meet your program needs. This form of mobile advertising really has no limits. You can take the vehicle anywhere. Hit up busy streets in a popular market, make an appearance at contests, concerts, events, or festivals. You can easily be physically present where your target audience is!
BUT I DON'T SELL FOOD, WHY WOULD I USE A STEP VAN OR FOOD TRUCK?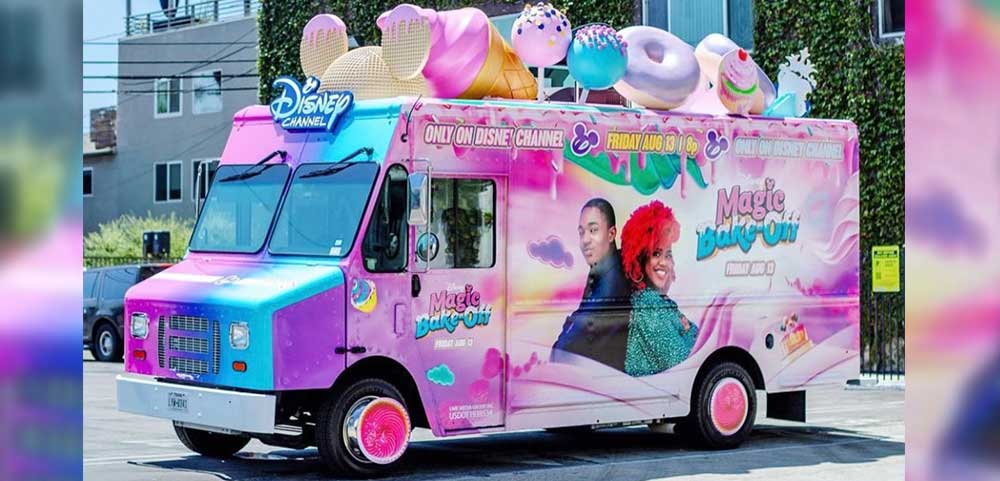 Connect with People
You need a way to be SEEN and CONNECT with consumers! Your brand needs more attention. Your business or brand doesn't have to represent any type of food or beverage to use a food truck or step van for advertising. People LOVE free stuff. People LOVE food. SO. All you need to do is meet their needs. Your brand or your business (whether an apparel company, software business, or whatever it may be) hands out free food and the consumers are grateful to YOUR business or brand! They feel gratitude for the free stuff and turn to YOU to thank. "How nice. How kind. How thoughtful." They now associate this generous, thoughtful gesture with feelings of joy and positivity that is CONNECTED TO YOUR BRAND! You are showing you care for your consumers and potential buyers.
Budget Friendly
Another reason why you should utilize this form of mobile advertising is it's easy on the pocket book. You don't have to have a huge budget to lease one of these and after a simple vinyl wrap and obtaining the product you will be handing out you can hit the road. You can reach thousands of people with a small budget.
Visually Appealing
Speaking of vinyl wrapping these bad boys, the creative possibilities are only limited to your, or your creative's imagination. Make the wrap as eye catching and head turning as possible. You want people to see this asset and be curious and to be drawn in to engage. You will get their attention with the visual aspect of the vehicle. Your brand will stand out and consumers will have no doubt what you represent.
Interaction with Your Brand
These vehicles give people a chance to interact with and engage with your brand as opposed to seeing an ad in a magazine, a billboard as they drive by, or a commercial on tv. Instead of merely an abstract thought, you are bringing your brand to LIFE! This generation needs more! They need to see, feel, touch, and EXPERIENCE your brand. This type of experience with a food truck or stepvan gives them an experience that triggers all senses. Imagine it. They see the wow factor of your head-turning vehicle. They hear the energizing music playing. They taste and smell the sample; possibly an ice cream or popsicle. You could even have a QR code on the truck to give more interaction possibilities. You will have brand ambassadors interacting and representing your brand. People CRAVE human interaction. We all learned that with COVID. Connect with people! They will develop feelings for your brand that will last a lifetime.
Social Media Engagement
Social Media equals free advertising. These vehicles create the perfect photo and social media share opportunity. You can leverage your experiential vehicle activation investment by creating hashtags and generating hype around your brand during your time on the road. Using social media to share and announce where the truck will be and when will create FOMO (fear of missing out) and entice people to find the vehicle to take advantage of the free giveaways. When they do, they will want to share the experience with their friends and following on their own social media and will aid in your efforts to be socially present.
WHAT'S INVOLVED IN THE PROCESS?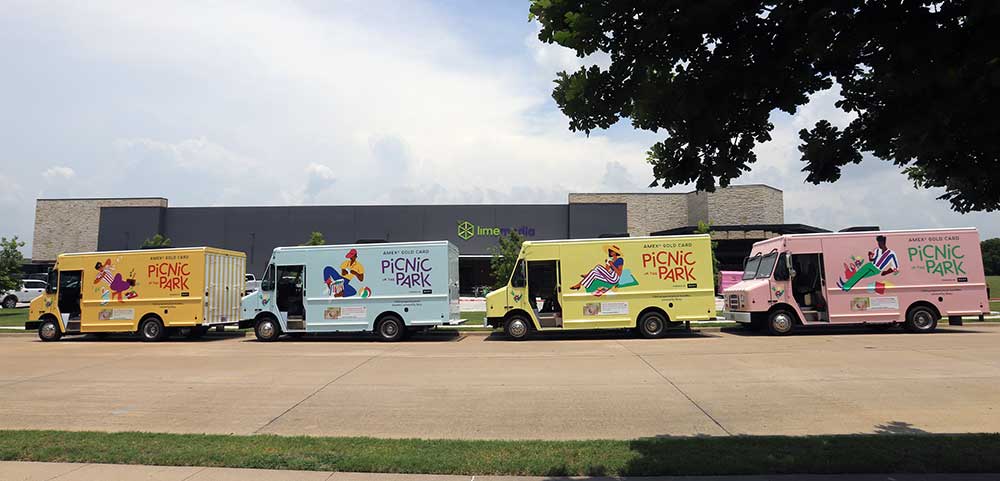 Step Vans and food trucks for mobile marketing campaigns are one of the most simple forms of mobile vehicle advertising.
First you need the vehicle- the actual step van or food truck that will be used for the campaign. You will need to create a visually appealing wrap that will represent your brand and purpose. You will then need to get the vehicle wrapped.
Deciding on the sample to be given can be challenging, as there are so many possibilities. Prepackaged cookies, energy drinks, popsicles, ice cream just to name a few. See why it can be a tough decision?
You will need to think about staffing. If you have at least one brand ambassador and one onsite manager/driver you should be good to go. Of course you can provide as many staff members as you want and need.
An important part of the recipe is making sure to get insurance to cover vehicles, staff, and the public.
A few things to remember that can easily get missed is making sure to budget for overnight parking, daily cleaning, travel & lodging, as well as monthly maintenance.
BUT WAIT! YOU DON'T HAVE TO DO THIS ALL YOURSELF…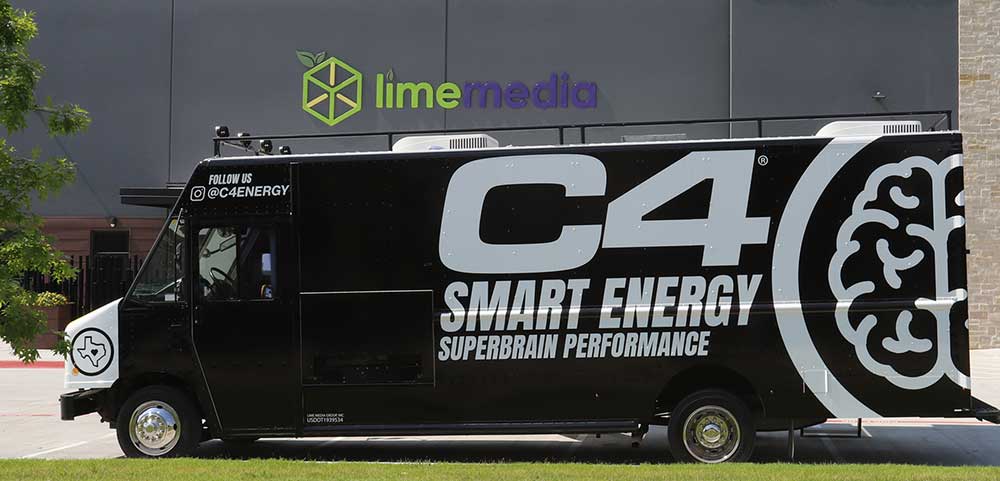 Even though using a step van or food truck is one of the most simple forms of mobile vehicle marketing, all of this can be very overwhelming. Hiring someone to take care of it ALL relieves the stress and ensures all the parts and pieces are taken care of.
Our team of experts at Lime Media has this entire process perfected. We are turnkey. Tell us your idea, give us a budget and we will take your idea from ideation, through production, to activation. We will take care of all the logistics for you; vinyl wrap, drivers, permits, locations, insurance… ALL of it. You will be able to rest assured that your marketing campaign will surpass all expectations.
What are you waiting for? Getting started is easy. Just give us a call and we will walk through the simple process together. Let's partner up and create an amazing mobile vehicle marketing campaign with a food truck or step van for your business or brand!