The Customer Journey for Choctaw: From Ideation to Activation
Is that an elevator? On the side of the street at an outdoor mall? Why, yes it is! Our friends at Latitude came to us with a really cool idea and they tasked Lime Media with bringing that idea to life.
Experience it yourself HERE!
THE WHY
Choctaw Casino and Resort needed to promote its massive expansion. The expansion would increase the number of rooms by 1000, featuring a bigger gaming floor, new luxurious pools, more entertainment options, dining venues, and much more. Their goal? To get the word out about the expansion in order to generate excitement and ultimately drive more people to visit the resort. Their message? "Not Merely Expanded, ELEVATED! Enter said elevator.
VISUALIZATION IS KEY!
First step. Creative vision. It was important that the look, feel, design and branding were just right. Latitude and Choctaw needed to see that the idea held only in their imagination, translated accurately to the Lime Media team. 3D renderings are a great way to get everyone on the same page. Our creative department spent hours of dedicated time creating renderings that were lifelike and realistic. The Lime Media creative team takes great pride in providing clients with what they need to see visually in order to assure the project will be on the right track and will turn out stunning.
Our Creative Director, Scott Neece, gives his perspective on the process.
"I received a time-sensitive email after our sales team talked with Choctaw on a concept for an immersive elevator experience.
Below is the secret Lime Media email I received (Please don't tell anyone):
'The client wants an experience that feels like you're stepping into an elevator.  Once inside, there will be a full 3-wall (presumably) immersion of the Choctaw experience.  They are providing the creative that will run on the screens and will seek info from us on dimensions etc. down the road so they can provide it properly formatted.  It will run in Durant, OK at Choctaw, and here in Dallas as well.  For ex, maybe 4 weeks there and 4 weeks here.
SN: (My task) We need you to render a mockup and possible fly-through by the next day.'
So, I gathered more information from the team, as far as scale, functionality, materials, and what we were wanting to accomplish. I made a giant cup of coffee (this can be the most important step of a project), and after researching elevators, I started creating in 3D.
The client wanted a very specific size TV on all 3 walls, so I made sure that I built the Elevator with that in mind.
I took some references the client had sent pertaining to what they wanted the elevator to look like, I was able to use some artwork from the Choctaw website and the client's referenced artwork, to make new artwork that would fit the 3D model.
I added lighting, a High Dynamic Range Image (HDRI) background, and rendered the scene at several different angles.
The renders were reviewed by the Lime Media team, approved, and then sent to the client.
My next step was to add the model to the Lime Media Sketchfab website. This helps the client to get a better feel for the experience. It's more immersive than just a fly-through video animation. I added animation to the doors, sent the link, and finished my coffee. After adding some basic dimensions for the fab shop, I went on to the next experiential project.
I really love creating fun and unique concepts!

LET'S GET TO WORK!
Choctaw wanted their audience to have an ELEVATED experience, so Lime Media went to work to provide just that. We had 4 weeks to build an elevator, from scratch. Our team of highly skilled fabricators began with metal framing, created walls, added air conditioning, LED lights, sound effects, and a 1 min video showing Choctaw's new expansions and upgrades.
There was a very common and important keyword Lime Media continued to hear from the client, "immersive". It was of utmost importance that the consumer would step inside, and feel as if they were instantly immersed in Choctaw's latest upgrades. Our team needed to build this elevator so that the consumer would, upon entering, completely forget they were just outside strolling the streets at a mall and become deeply absorbed in this artificial environment.
Alex Marin, skilled fabricator at Lime Media, shares his experience with the project.
"As soon as I heard about the Choctaw Elevator Project I was VERY excited. After receiving the renderings I knew the end result needed to be futuristic and innovative. We needed to build something nice and sturdy for the large, heavy, and expensive TVs. It also needed to hold the weight of the people that would squeeze into this "elevator" experience. For the elevator doors, we needed to design something completely new and I actually took one of the motor mechanisms home so I could reverse its action for the left opening door. That way we had the doors opening opposite ways as elevator doors do.
The electrical accessories access door had to be custom-built to accommodate the electrical panel, audio receiver, LED lights, elevator door motors, and a few more items. We had to strategically position the speakers and subwoofer as well. While fabricating this elevator, we had an audio and video engineer team working alongside us.
I'm extremely proud of our team and I think we knocked it out of the park!"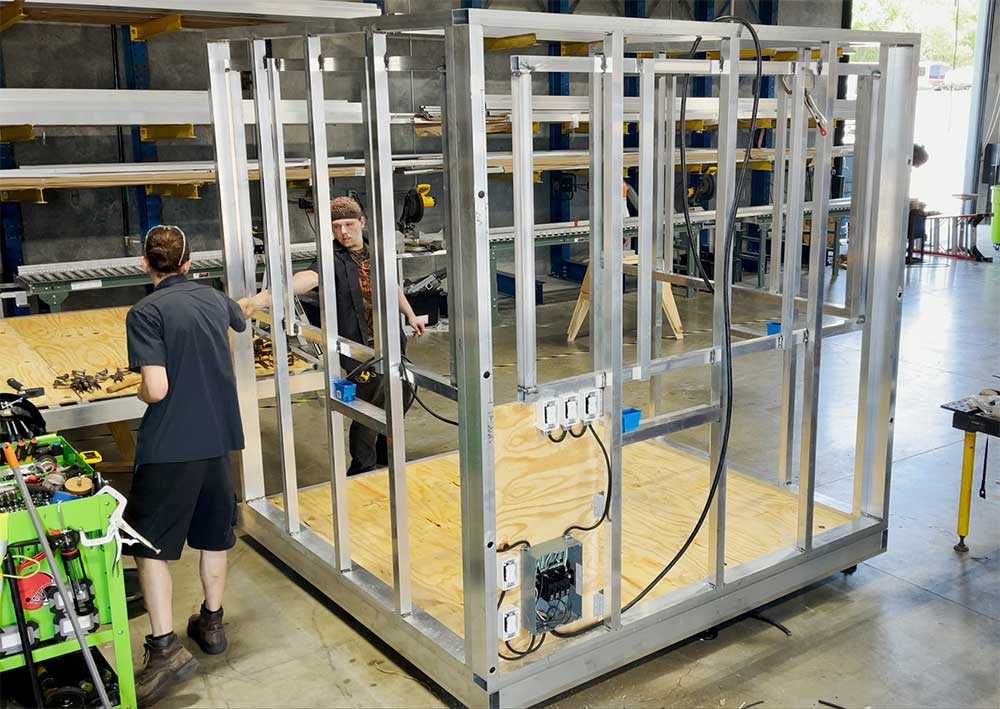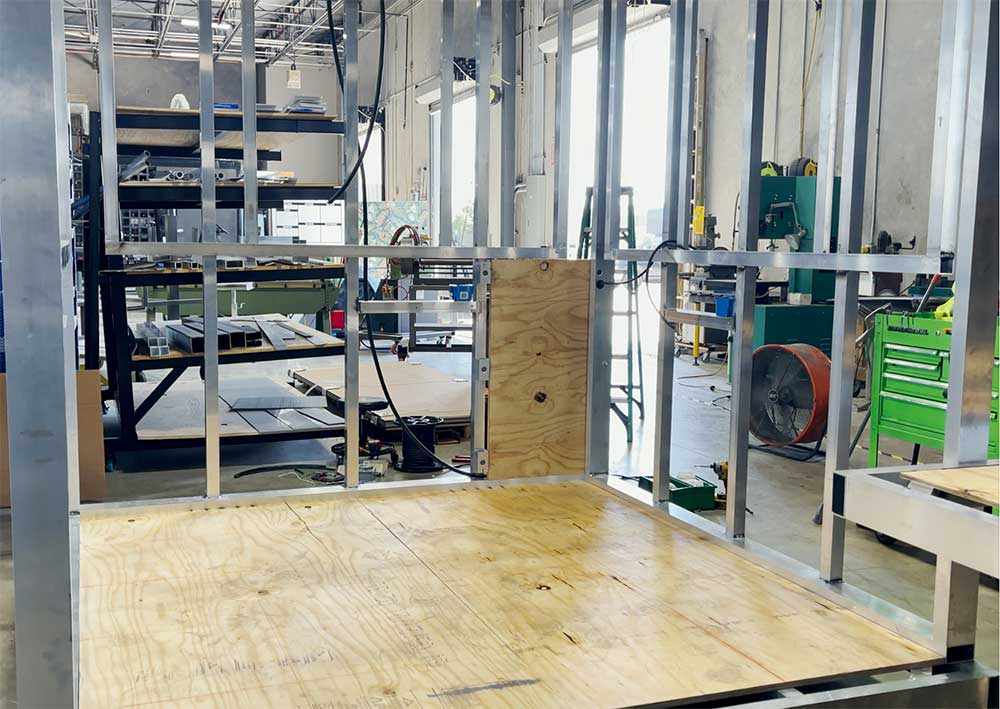 THE ELEVATOR HAS LEFT THE BUILDING!
Once the elevator was complete, it was time for transport and set up. The ELEVATED experience made its way to Legacy West mall, an outdoor mall in Texas, to activate. Lime Media's team was a part of this journey the entire time. Our team handled transportation, full set up, worked with mall management and security, and also took care of hiring Brand ambassadors.
3-2-1 ACTION!
Live at activation, brand ambassadors encouraged those passing by to step inside the elevator to check out the new and improved amenities Choctaw has to offer. They even handed out $25 vouchers that consumers could actually use at the Casino! What a way to get consumers in the door! We can say without a doubt that with this elevator, consumers experienced the new expansion in FULL.
NOT ONLY COOL VEHICLES BUT COOL STUFF TOO!
We have a lot of awesome vehicles to customize for experiential marketing, but that's definitely not all we do. Our team loves to build custom assets that bring that wow factor to your customers or for your brand. NO idea is too crazy. Give us a call and we can certainly bring YOUR idea to life too!