With the holidays just around the corner, we're here to bring you some fresh ideas and also show you some amazing projects from the past. At Lime Media, our world revolves around creating a great holiday experience that makes an impression so big that people race to share their amazing moment on social media!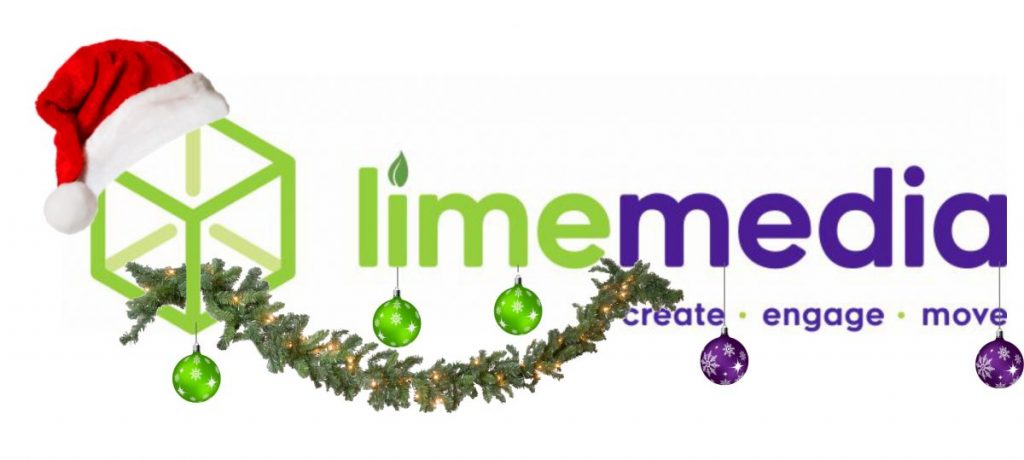 CUSTOMIZED PODS
Our Pods are a perfect fit for this Ginger Bread Village! Our fabrication shop can customize these assets inside and out providing mind-blowing effects! This concept features a roof, functioning chimneys with smoke effects, locking doors and much more! Each pod is fabricated to look like a life-size gingerbread house fully decorated with candy and icing! The three pods travel together providing three individual scenes where people can interact with the brand as well as social share their moment for all to see.

In one pod, Santa sits by the fire and checks his list to see who is naughty or nice. Kids can get a picture with Santa and check out the list as well as read about the history of how we come to love Santa.
In the second pod, people can build their own ginger bread house and take it home for all to see! A built-in wall rack offer a variety of gingerbread houses for purchase, and there are a couple work benches loaded with decorations for people to build their amazing creation.
In the third pod, a Christmas tree is staged with wrapped presents for the perfect holiday photo!
Additionally, we've decided to include a popular show-stopper – a giant snow globe! As people explore the village, they can stop in at the globe and enter a winter wonderland with snow blowing against a beautifully branded backdrop.
All of this travels around to as many markets as you want and will make your holiday program one to remember!
GIANT TREE ORNAMENT
Here is an idea that basically provides people with an unforgettable social share moment! We've created an amazing hardscape that has real lights and evergreen branches assembled around a custom 8′ wide ornament. This display creates the illusion that people are inside an amazing Christmas tree ornament. The inside of the ornament can be staged out with trees, blowing snow, lights, seasonal props and branded. This hardscape asset can be locked and remain in place for extended indoor/outdoor activations, or set up for just one day.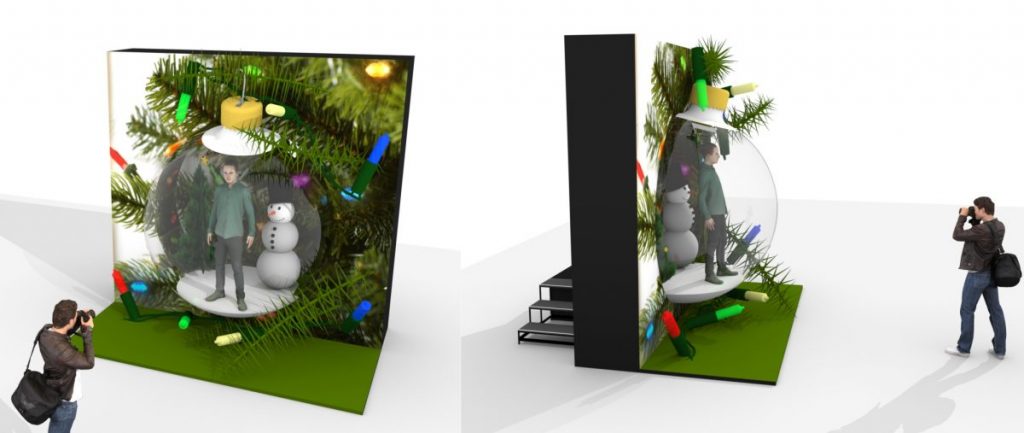 LIFE-SIZE SNOW GLOBE
There is just something mesmerizing about a snow globe! Who hasn't shook a snow globe and gazed into the ball and wondering how cool it must be to able to be inside it! Imagine stepping into a winter wonderland with artificial snow blowing around and a being able to share all of the excitement on social media with an amazing branded background scene, life-size snow men or other seasonal props. This inflatable asset is easy to set up and is functional both inside or outside a store. It can be fully branded and has amazing surfaces for creative content such as hashtags, logos, or photographic elements.

12′ GLASS TRUCK
Glass trucks are always a holiday favorite! With endless creative possibilities and custom build-out capabilities, this truck is fun, mobile, and eye-catching! Here we made a mobile Santa Clause photo op that can pull up to a location, activate for a few hours and then relocate to another area within a market for maximum campaign exposure. This asset will provide mind-blowing visual impressions while traveling in market as people can peer into the box through the glass walls.

CUSTOM FABRICATION
We are able to fabricate custom props, transport them across the country and fully staff for any program. Our creative team is standing by to help you ideate, strategize and plan your holiday program. Call us today!