One of the most common questions this time of year is, "Is it too early to start thinking about holiday experiential events?" Absolutely not! In fact, it's THE time to begin planning. If you blink, it will be too late! The holiday season is quickly approaching, and consumers are yearning to get into the festive spirit. This means that brands need to have their immersive experiences waiting!
Why
With the hustle and bustle of the holidays, it's hard to find the time to get your shopping done. Then when you add intense crowds to the equation, buying the perfect gift tends to fall to the bottom of the list. That's why it's so essential to bring shopping to consumers! Experiential marketing saves your customers from having to brave the crowds or have an impersonalized online shopping experience.
Not only does it benefit your consumers, but your brand can also invoke the warm and fuzzy feelings that the holidays are all about! The secret to successful holiday activations is simple, celebrate togetherness.
Pop up shops
The go-to activations for the holidays are pop-up shops. Many companies utilize pop-up shops throughout the year, but the holidays add a unique twist. There are many ways your brand can add a unique factor to your activation. A personal favorite is a gift-wrapping station. Give shoppers one less thing to worry about and wrap their purchases for them. This benefit entices people to purchase your products, and they get to kill two birds with one stone. Go a step further and have several wrapping options available. Have sacks and wrapping paper for each holiday ready. You can even allow shoppers to wrap their gifts themselves. The more personal you can make the pop-up experience, the more successful it'll be.
Another option is to add discounts on items bought at your brand's pop-up shop. Providing discounts is a way to care for consumers and give a little back during the holidays. The generosity will resonate in shoppers' minds and will only benefit your brand. By implementing discounts only at your pop-up, you're providing an exclusive event that is more desirable to consumers. It makes them feel special.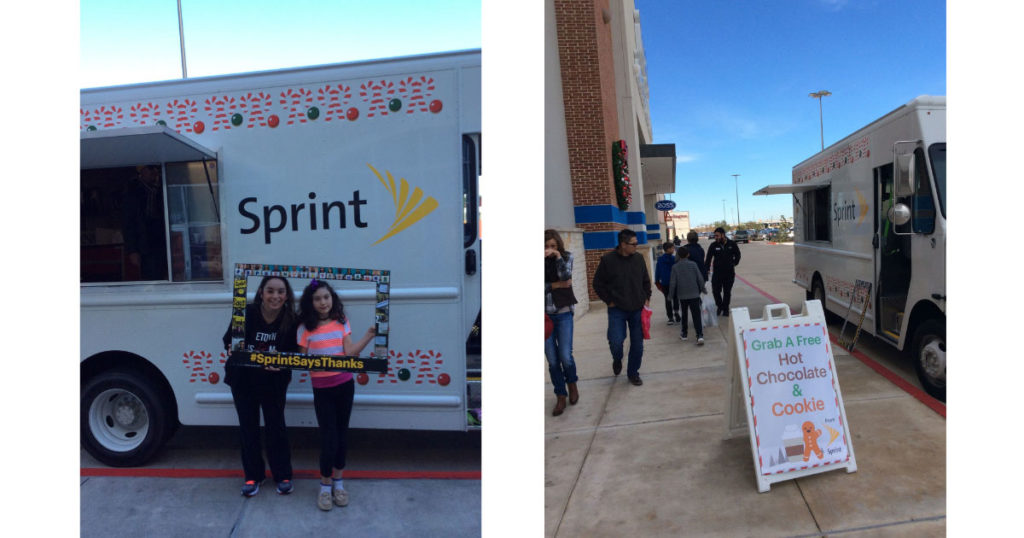 Who has put off shopping until the last minute and then struggles to find the perfect gift? This leads to another benefit of holiday pop-up shops! Many brands use this concept to their advantage and activate pop-up shops just DAYS before the holiday. Better yet, promote it that way! It is a fun way to get people excited that they haven't been able to grab all their gifts yet.
Don't forget to take advantage of the more personalized shopping experience and allow shoppers to sample your products! People are more likely to buy from a brand when they can try the goods for themselves, especially during the holiday season.
Holiday Festivities
Regarding holidays, it's always safe to say go big or go home. You know what I'm talking about! Over-the-top light displays and 50-foot Christmas trees. How does that tie into experiential marketing? Brand awareness, baby! Everybody wants to know the brand that created such an epic holiday display. When it comes time for them to need your product, they'll remember your brand and buy from you instead of your competitors.
Your brand can also host a fun activity to increase your brand awareness! Some of the most popular events are making gingerbread houses or decorating ornaments. Don't worry; this isn't a waste of your budget. If you implement your good or service into your event, you'll attract people with the festive spirit and have them leave with your products! It's a win-win!!
Another marketing strategy you can implement to get people filled with holiday joy is to create your brand advent calendar! Get people excited about the lead-up to Christmas by having "25 days of discounts". The idea would be that your brand discounts a different product each day. You could even make it a surprise so consumers wouldn't know what was going on sale until the day of! Utilizing social media promotion for this idea will help captivate your audience.
Marketing Funnel
When thinking of your brand strategy, it's just as important to invest at the top of your marketing funnel as at the bottom, where you're reaching your defined target audience. Your marketing funnel helps your brand identify how to market to customers at different stages of a buyer's journey. The holidays are a prime opportunity to hone in on your brand awareness. Get people thinking about your brand and gain exposure. Trust me, it will benefit you most in the long haul! Experiential marketing is about increasing your brand awareness, and there is no better time to start!
The holidays are the biggest shopping season of the year. Take advantage of the holiday joy and start planning your experiential marketing event. It's never too early!