Generation Z should be at the front of all marketer's minds. Why? The older side of the generation, 18-24-year-olds, are college-age consumers. For the first time, they have the power to purchase whatever they want, whenever they want. Of course, to capture the attention of this generation, you'll have to break away from traditional marketing tactics.
Gen Z has not known a life without the internet, and they're used to having anything they want at their fingertips. This makes it challenging for brands to see results in traditional marketing like promotional emails or advertisements. Instead, you need to reach your audience on their terms. What better way to do that than utilizing experiential marketing? Better yet, activate on college campuses, where your target audience is exactly in their element. By providing offline, immersive experiences for students, your brand can make a lasting impression that's likely to lead them to your brand loyalty.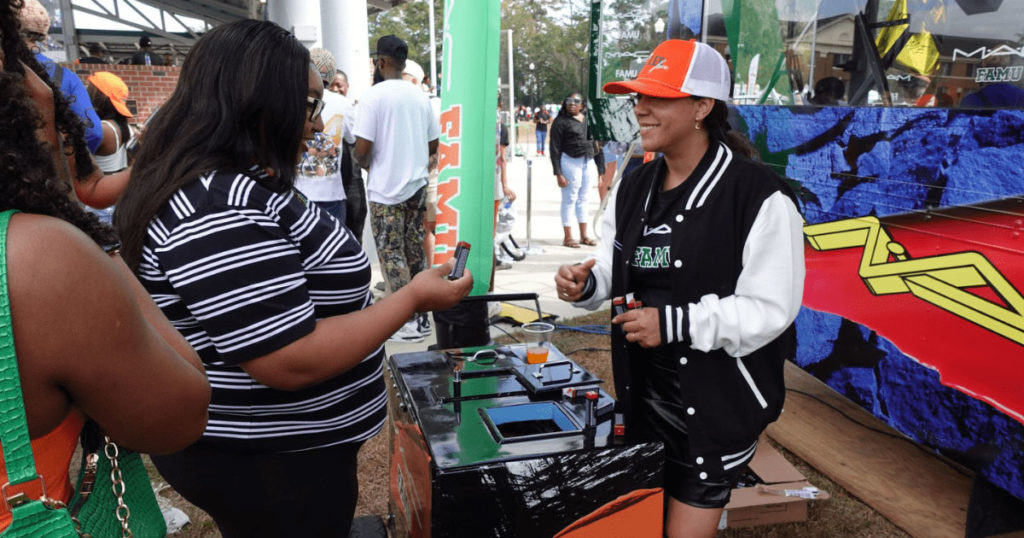 What to know
Don't jump the gun! You can't throw your brand onto a college campus and expect success. Gen Z is known for being headstrong in what they want, so you must know how to appeal to them. Tap into their interests! Make your brand activation about THEM. This will require some research on your end. Here's something to note, every college campus has a different "vibe." An activation would need to look different at a private, smaller college than at a larger party school.
You should also plan your activation around a prominent campus event, such as a sports tailgate or a homecoming celebration. There will be heightened attendance at these events, giving your brand more exposure. By activating on a college campus, you're often putting your brand in the direct pathway of your target consumers.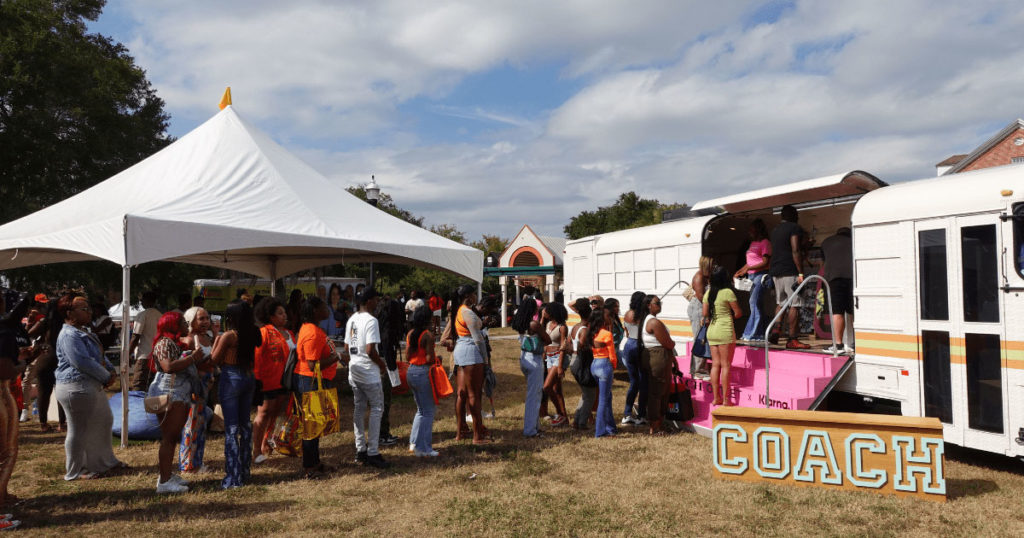 Creating Engagement
To create a buzz-worthy event that college students won't want to miss, your brand has to pull out all the stops. What grabs the attention of college kids like no other? The word FREE! You'll be a hit if your brand puts on an event giving out free samples. Regardless of your brand's niche, you can use this tactic. College students will ALWAYS take advantage of free things… and use them. By providing free samples, you increase the likelihood that consumers will buy your product once in need.
Another way to entice college kids to participate in your experiential marketing efforts? Raffles and prizes! Offer something your audience needs or even wants. Not only do attendees get excited about the possibility of winning, but with a college-age target audience, you're offering something they need and cannot get.
College is all about building relationships! So what better way to appeal to that audience than by allowing them to socialize with others? Your brand can implement photo opportunities, lawn games, and lounge areas. Anything that encourages community will help make your brand activation a success!
All of these tactics lead the way for attendees to capture UGC or user-generated content. UGC is a brand's ultimate goal when it comes to experiential events. UGC is organic content shot and posted by attendees at your event. It creates a brand presence on social media and instills FOMO in those who are not in attendance, giving them a strong desire to interact with your brand in the future.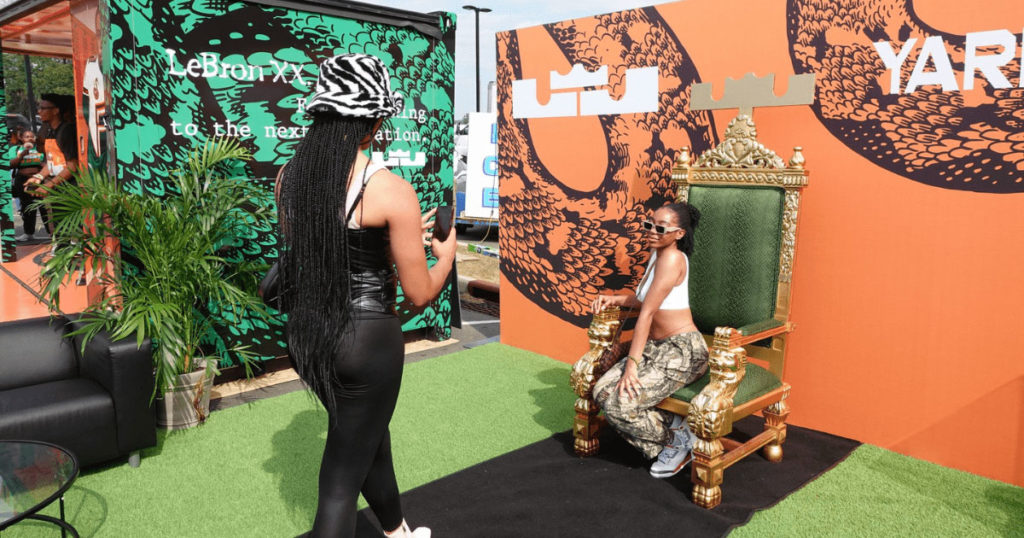 Activations in ACTION
Lime Media recently had THREE, yes three, activations simultaneously operating at Florida A&M University. The activations took place during FAMU homecoming; let me tell you, the crowd did NOT disappoint.
For Coach, we fabricated a clamshell school bus, turning it into a pop-up shop. We built a false wall for a photo-op, a custom neon sign, and podiums. Coach took advantage of building a community at their activation. Inside the asset was a polaroid camera where attendees could take photos together and hang them on the photo wall inside the bus for everyone to see. Outside the school bus, attendees could play giant Jenga, cornhole, ladder ball, relax in some fun colored beanbags, and mingle. Additionally, Coach was showcasing some of their new collection that was available for purchase.
For MAC, we used our 24 ft glass box truck to sample makeup products. The truck got a full vinyl wrap, multi-colored LED lights, and two awning installations before heading to Tallahassee. Attendees could get a makeover from a licensed makeup artist, take a spin in the 360-degree photo booth, AND grab a mini MAC lipstick for the road. By giving consumers a taste of MAC products, they're more likely to purchase the lipstick when they run out of the sample and experiment with a different brand.
For Nike, we fabricated a custom container to promote a new sneaker release by LeBron James. The container included LED strip lighting and a full vinyl wrap. The footprint even welcomed consumers to hang out and play Jenga in the extended area outside of the container. Throughout the day, tickets were handed to attendees for a raffle with a chance to win a pair of custom LeBron James sneakers. Not only did this entice people to come to the activation, but it ensured that they all came back at the set time to see if they won.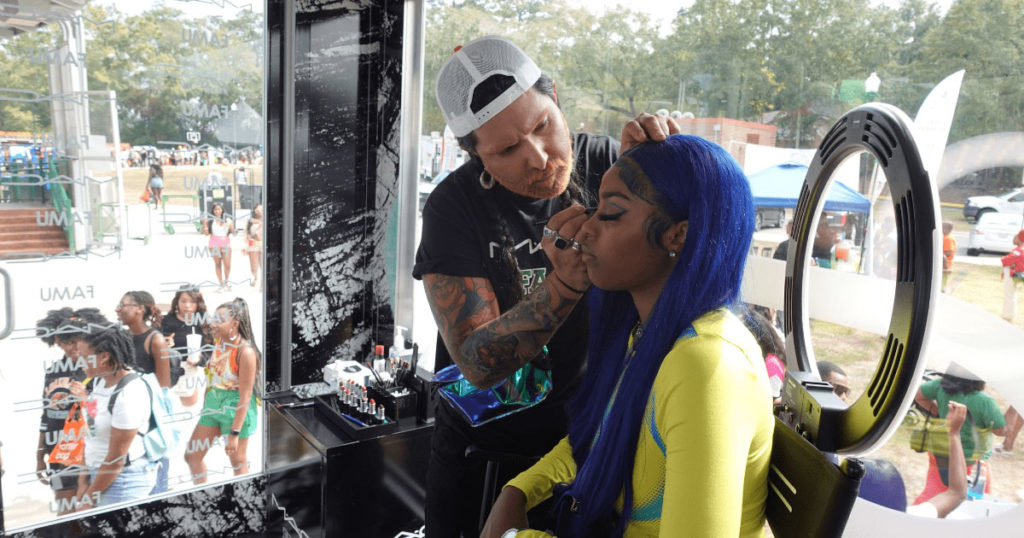 Experiential marketing is the best way to reach college-age students regardless of what your brand chooses to implement. The more UNIQUE and EXCITING you can make your brand activations, the easier it will be to convert Gen Z into consumers. Take your brand to your audience and throw it back to the college days.