As customers make their summer plans to safely return to concerts, exhibitions, and fairs we are helping our clients do the same with pop-up retail and mobile tours. People are ready to re-engage and connect with brands genuinely after not being able to attend any in-person experiences. Live, in-person experiences are BACK. Get your brand out of hiding and put that marketing budget to good work! It's time to venture out of the brick and mortar and experience the Pop-Up Power of mobile shops!
Mobile pop-up shops are a hot trend in the experiential marketing industry. Whether you own a large or small company they are a safe bet to enhance your brand and make your customers fall in love with it.
If you want to dive into the concept and learn how they can contribute to your business, keep reading!
What Is A Mobile Pop-up Shop?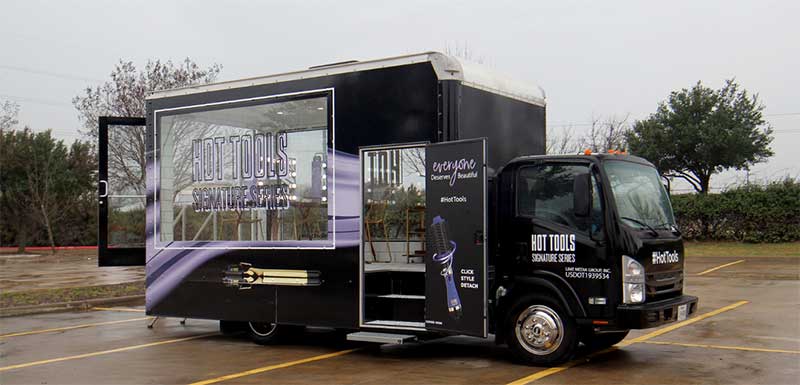 A mobile pop-up shop is exactly that. It's a shop. It can easily "pop-up" anywhere. It's mobile! It's a store that during a specific, and short period of time, is located in a strategic place. You could take your mobile pop-up to the center of popular cities, on busy streets, in shopping centers with a lot of affluence or even at music festivals.
These assets are incredibly successful because they play with a fundamental premise of consumption: temporality.
Consumers are intrigued with anything exclusive. Temporary offers or products work incredibly well. During the short time your brand is making itself or products available to the consumer, the consumer gets to interact with your brand. At this point of sale, your consumer has spent some time with what you are offering. They know it won't be around for long. This causes great urgency leading them to make the purchase!
Now that you know what a pop-up store is, let's dive into the advantages of implementing this original point of sale. At the end of this blog you will be looking forward to creating your own mobile store!
Key Benefits Of Mobile Pop-up Shops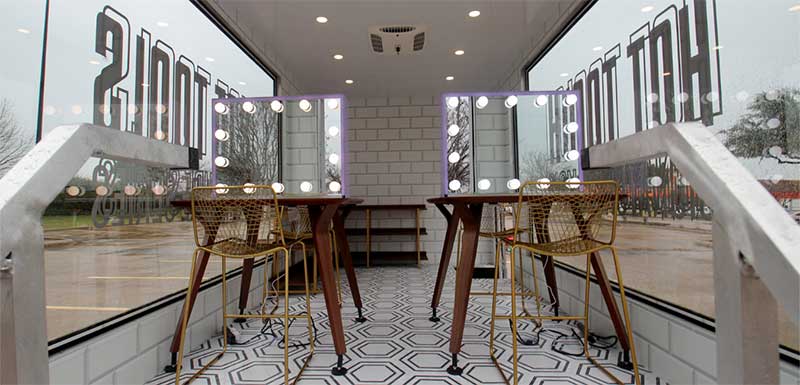 These temporary stores can be a great opportunity for your business. We don't want you to miss the opportunity to stand out amongst your competitors, so let's take a look at what you can do with mobile pop-up shops and why you want to jump on board.
Offer an Experience They Will Never Forget
Create an opportunity for the customer to get an amazing experience with your product or brand. Create an experience that they will remember forever and won't stop talking about. You can make use of interactive technology, music, smells, or specific themes. You want to try and connect with your consumers through taste, touch, smell, or their hearing. Including several of these elements, not just one, is a sure way to offer the best memorable experience. The key is that your customer gets a unique experience and leaves with the desire to share it with their friends, family, and community.
Free Natural Publicity
You practically ensure free dissemination as consumers get excited about your brand and as they broadcast their feelings through digital media. It's free publicity! Your consumers' share on social platforms and your brand easily benefits from viral marketing. All this natural publicity for your brand or product, for FREE! It's a no brainer.
Increase Brand Image
Brand image is how customers think of your brand. Pop-up shops are such a novel and exclusive marketing action. It's unique and it stands out. It gives an added value to the brand which lasts beyond the existence of the pop-up store itself. This adds to your brand prestige. People are going to see you are taking great effort to reach them. Consumers will see your brand in a positive light as they see you going above and beyond to connect with them.
Test a Specific Product, Market, or Service
Another way to use a pop-up store is to discover what your most profitable products are. You can take advantage of it by allowing potential consumers to try your products that you will be launching. You have to find out if the product is something your consumers actually want. Pop-ups are a great way to do this. Travel to different markets and demographics and find out if your product is needed or even desired.
You Reach Offline Customers As we mentioned above, the sense of urgency increases the interest in your company and as a result, increases the sales of your business.Although many online stores are backed by a physical store, there are also numerous businesses that only exist in their virtual version. Opening a temporary physical store can bring you closer to new shoppers and humanize your image in front of current consumers. Even an online giant like Facebook takes advantage of pop-up stores.
What Lime Media Can Do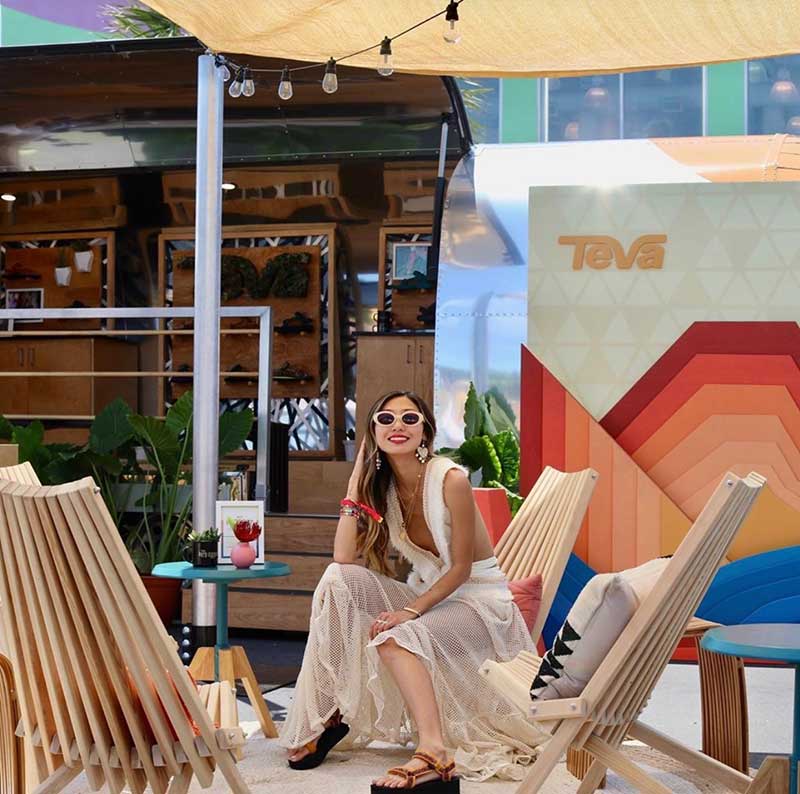 We were able to team up with our great partners at The Broad Collective to help execute their event for Teva, the original sport sandal created back in 1984.
During a marketing event, customers can see, try, and learn why your product would be beneficial to them. For this project, we analyzed Teva's brand and style, to see which of our assets would best fit their "freedom to roam" vibe and company values. To provide a fun, airy, and engaging pop-up shop concept to increase their sales and boost their products, we used our Airstream asset.
We added shelves in which the brand could showcase their products. We also included benches that paired up well with the brand's environment setting so their customers could sit and try on the shoes.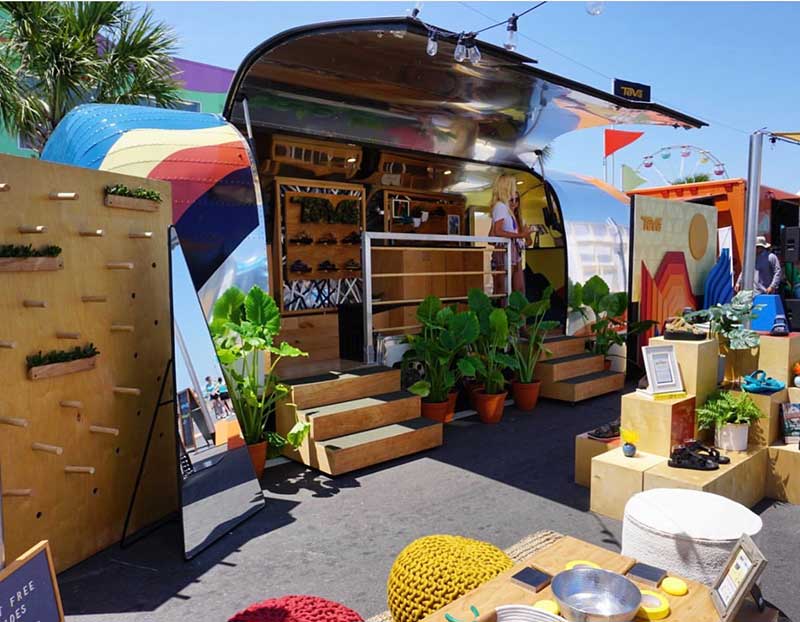 The event brought together a lot of curious people and regular customers to which the brand provided direct engagement and creatively interacted with them in a memorable way.
Also, a full social media campaign was executed in tandem with the experiential strategy and the result was great online buzz, a strategy proven to be successful. It significantly increased Teva's brand awareness.
This is a great example of a experiential event, bringing together many of the advantages of this guerrilla marketing strategy:
It creates an easily identifiable temporary space
It reinforces its brand image with a very recognizable design with the use of brand colors
It offers additional experiences to its audience enriching the shopping experience
Allows new customers to discover the brand
Allows loyal customers to reinforce their opinion of the brand
Teva clearly showed their customers they care and went a step further to invest in the relationship with them. When it comes to creating an experience with your brand, these pop-up events are the perfect opportunity to create a closer and lasting bond with consumers!
Do You Dare To Bring Your Store To Life?
A mobile pop-up store will give your brand an important boost in terms of authority and visibility. We've said it before, customers want to have more experiences with brands. Building loyalty means executing strategies like this!
At the end of the day, you want to find an experiential marketing agency that understands your vision and can help you bring that vision to life. If you are ready to make your business POP with pop-up retail and mobile tours, contact us at info@lime-media.com. Don't forget to follow our social media channels to see all the cool stuff we are doing!