Reaching consumers in a meaningful way continues to get more difficult over the years. The year 2022 is no exception. Marketing departments strive for innovative ways to reach people and increase sales. If you're in marketing, you've most definitely heard in a recent meeting "No people! We need to think bigger! Think outside the box!"
In 2022 your challenge will be to create unique experiences for your target audience that TOUCH ALL FIVE SENSES. If you are able to do this successfully, you will create loyal relationships with consumers, you will stand out from competitors, and YOUR SALES WILL INCREASE. Sensory Marketing and Experiential marketing go hand in hand. With sensory marketing, every sense is triggered. With experiential marketing, the consumer gets to physically experience your brand.
How will you do this? Well, there's a laundry list of ways to create an experience for consumers. We've done the research for you and have pulled five sure ways to up your marketing game in 2022.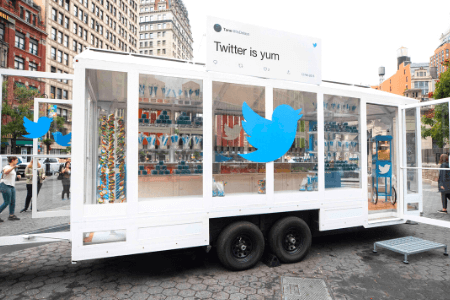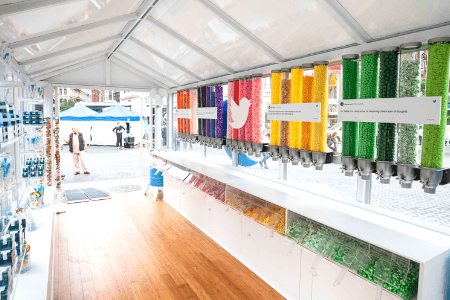 1) EXPERIENTIAL VEHICLES
An experiential marketing event is no stranger to your marketing department. When you're PLANNING YOUR NEXT EVENT consider using a marketing vehicle. It adds a unique aspect to your footprint and helps you stand out.
Vehicles are mobile so they can go anywhere. State to state. Market to market. You're not limited to one place, one time, or one audience. Your reach is only limited by you. Five markets or ten? Which markets will you hit? Why? How cool is this planning meeting going to be! When possibilities are wide open like this, brainstorming sessions are so much fun!
With mobile vehicles, you have a wide range of unique options. You may not even know what options you have! Take a look HERE at a really cool vehicle fleet that could create unlimited opportunities for you and your brand.
These vehicles are versatile. You can use the exact same setup at each stop or you can change it up. You can also choose to have a fleet of vehicles running in multiple markets at the same time! Each vehicle could look the same and have the same elements, or they could serve a completely different purpose. You can also use multiple types of vehicles for your event. Mixing, matching, and pairing different vehicles takes it to the next level. Pair a Prevost bus with a caravel airstream or use a glass box truck and an ambulance! SET YOURSELF APART FROM COMPETITORS who are only using one vehicle, and use two, three, or more for your campaign!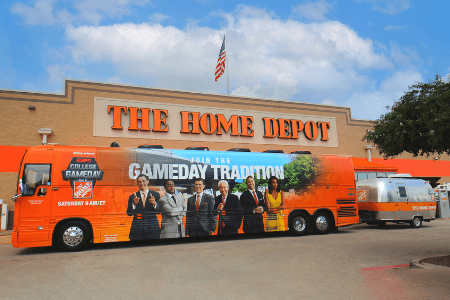 2) VR (Virtual Reality)
If you really want to wow consumers and give them something to talk about, give them a VR experience.
Virtual reality takes consumers to a different place. They could travel and experience any part of the world, you could make it easy for them to visualize several products or design possibilities, you can even put them in different fantasy worlds or experiences.
What and how you will incorporate VR depends on several factors. You need to:
Establish the purpose of your brand experience.

To educate?
Gain more exposure for your brand?
Make direct sales?
To launch a new product line?

Decide where your event will take place.

Will you be inside or outside?
Will you have a large open space or a small booth?

Determine who your audience will be.

Who will be there to experience your brand?
How old are they?
How many people will be there at one time?
How comfortable are they with technology?
It's important to flush out the answers to these questions because you don't want people confused about the purpose, uncomfortable because of space, or bored because it wasn't age-appropriate or they had to wait too long for their turn. 
HERE ARE SOME TIPS AND TRICKS FOR A GREAT VR EXPERIENCE:
Show a live feed of what users are seeing on a big screen, so other people want to jump in as well!
The experience must communicate a message and be memorable. Our tip is to keep it short. Two minutes tops. This will keep them engaged and left wanting more, thus remembering your brand and the experience they had.
Make sure multiple people can be a part of the VR experience at one time.
Include social media sharing opportunities!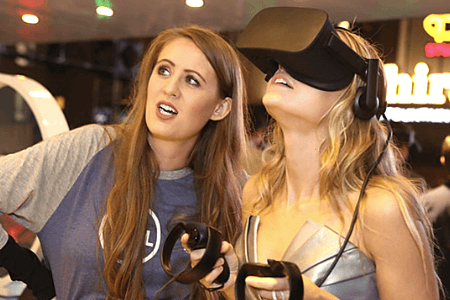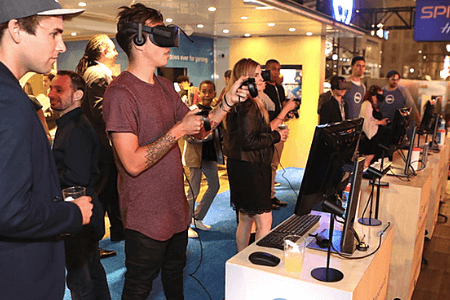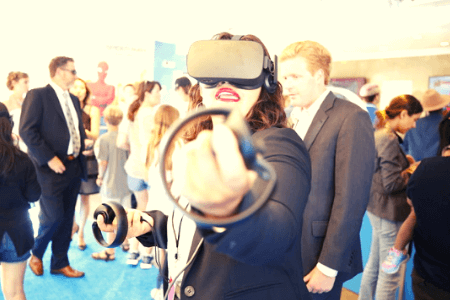 3. LIVE EVENTS
One thing that will for sure hold you back in 2022 is NOT doing a live event. Yes. COVID changed everything when it comes to live events, we understand the sensitivity that surrounds this topic. In 2021, live events returned. The brands that went for it and offered live experiences, didn't regret it. Consumers felt like they mattered because the brand showed an understanding to meet a need; the need for social interaction, fun, joy, and IN PERSON EXPERIENCES!
If you choose to be cautious about this, you are giving competitors a chance to get ahead. Don't be scared. Be bold and set the tone.
Live events have been around for a long time because they work. From a book signing to a concert, there are ample opportunities to get out there in front of your consumers. The coolest part is, the live event doesn't even have to be directly connected with your brand!
Amazon wanted to encourage early Christmas shopping due to the worldly issue of out-of-stock items and delayed shipping. Amazon used an experiential vehicle, an open-top double-decker bus, to host a Gospel Choir on top and bring the spirit of Christmas in early October. They were very crafty in the way they put on this live event. The simplicity of Christmas decor, Christmas carols, and brand ambassadors handing out gifts worked in the mind of the audience. The result was twofold.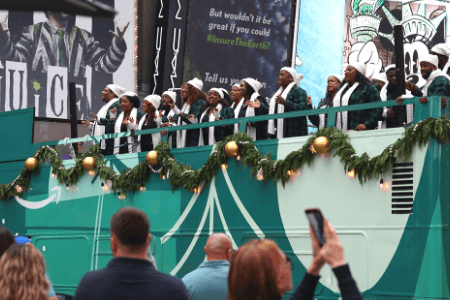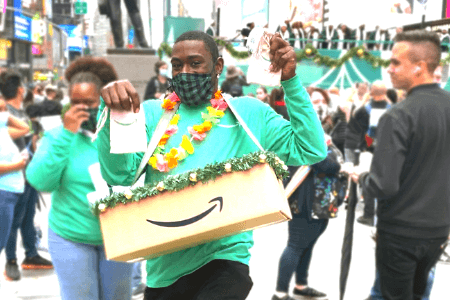 First, the spirit of Christmas was introduced. Getting consumers to already, in October, begin thinking of Christmas and the need to start Christmas shopping. This created FOBB, fear of being behind!
Second, consumers were overwhelmed with joy and left with positive vibes. A flood of endorphins were released as they were in the middle of this experience. Without even knowing it, the consumer's brain connected those wonderful feelings with the Amazon brand. Where do you think they will turn first for their Christmas shopping?
Don't be afraid to put on a live event to represent your brand. There are simple ways to keep it safe and respectful of the sensitive situation surrounding COVID. Don't let that hold you back. Get creative and make it happen. IN 2022 YOU WILL NEED TO SHOW UP FOR YOUR CONSUMERS!
4. POP-UPS
If you don't get on this bandwagon in 2022 you will be left behind. Have you ever wished you had jumped in on the front side of a trend? While pop-ups aren't new to experiential marketing, research shows it's about to take off even more!
A pop-up, or temporary retail spot, is a very direct way to create real, fun, and memorable consumer connections to your brand. It's a simple and obvious solution to many problems businesses are facing not only post-pandemic, but in this technology-driven world.
More and more people quickly turn to online shopping because it's convenient and safe. Brands are trying to figure out how to get human bodies in their stores. Easy solution, take the store to them.
KEY BENEFITS:
Budget friendly
Spread the word about your company/brand
You can test new products
Unlimited number of locations
Pop-ups don't have to be limited to retail. Use a pop-up to provide a solution to a problem. Check out what Sprite did on the beach.
Problem: Beachgoers needed to shower coming off the sandy beach.
Solution: Shower
Brilliant Experience Marketing: Showers looked like a sprite soda machine. Brand ambassadors were handing out free samples.
Need Met + Fun Memories + Product Exposure = Consumer Buy In & Loyalty
Customers associate satisfaction of a need being met with the brand. Consumers' brains then associate the positivity to the brand.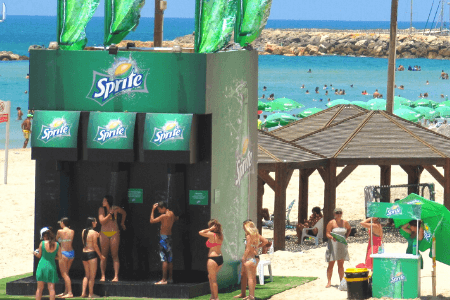 5. FOOD EXPERIENCES
Spice up your next campaign by offering food! Food is the way to many people's hearts. Especially when it's free. If you represent a food brand, this kind of marketing is obvious. However! You can take any pop-up or live event to the next level by adding food no matter what your business or brand is. Food draws people in to engage in whatever type of product or service you're promoting.
Food has become a form of engagement. Holiday Inn Express gives us a great example. They wanted to introduce their new breakfast offerings in a memorable way. They turned a stepvan into the "Pancake Selfie Express," utilized actor/comedian Rob Riggle, and hit nine cities. Consumers were able to enjoy a pancake with their own selfie face burned on the top of it!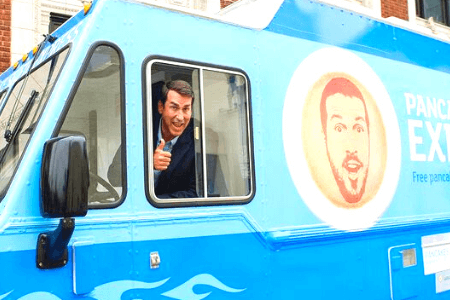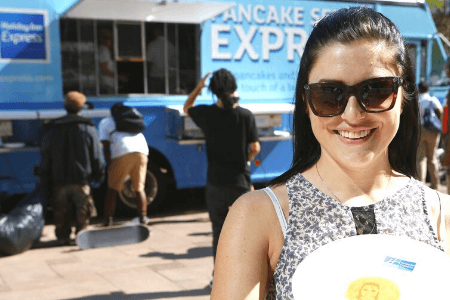 There are a lot of creative ways to incorporate food into your next experiential campaign. Rather than just walking the streets handing out samples, utilize another top trend of 2022 and incorporate an experiential vehicle.
Here are 4 of our Favorite Sampling Vehicle Options:
Food will enhance the experience! Incorporate food in your marketing campaigns and you are sure to be a hit in 2022.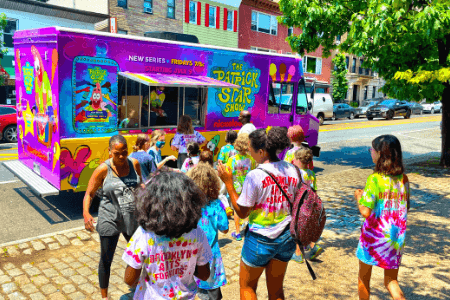 THINGS TO REMEMBER HEADED INTO 2022
Unique experiences get people talking and engaging with your brand on social media. Use social media to your advantage. It's free marketing! Social media hype leads to an increase in sales. No brainer.
Don't forget, you can partner up with other businesses or brands to GAIN BIGGER BUDGETS and expand your reach to not only your target audience but the partner companie's audience as well.
Spend the time to pinpoint your target audience. What are their hobbies? Where do they hang out? What music do they like? What do they drive? If you can take a deep dive into getting to know your target audience and create an ideal persona, your campaign efforts will result in a better ROI.
Do your research and pick the right day and time. This is especially true if you're only activating for one single event day. If you're marking multiple days on the calendar for the campaign you won't suffer AS much if you have a dud day. You want to be sure people are there. Pay attention to other events going on at the same time in the area, holidays, and city/state/nationwide events. This research will be a great advantage for you when deciding on your campaign schedule.
Do SOMETHING. A lot of brands reworked the experiential budget and allocated it towards other departments. Several companies put a complete halt on experiential. All the while other brands and businesses kept at it even through the grit and grind of COVID. In 2022, DO SOMETHING to give your consumers the attention and care they need!
Do you have an experiential project you're currently working on or an idea you need help flushing out? We'd love to help ideate and help you successfully implement these strategies in your next campaign! (972) 808-5241 | info@lime-media.com