July marks the beginning of the back-to-school shopping season! It's said that the "early bird gets the worm," which tends to be the case with back-to-school shopping trends. In 2021, 37 billion dollars was spent on all things back to school, making it the second-biggest shopping season of the year! For brands, this is something you don't want to miss.
Stay ahead of the demand
Back-to-school shoppers typically begin buying during the second half of July. This doesn't mean your brand should wait for consumers to shop. Instead, it gives you more time to plan your marketing strategies and campaigns! A well-thought-out and executed campaign will make the difference between you and your competition.
Ideally, back-to-school campaign conversations should start within your company by the end of May or early June. You'll want to look at past trends for your brand. What campaigns have worked? What did you notice missing in the past? You'll also want to look at your competitors' previous trends. What made their campaign stand out? How did they market for success? Looking at every angle of previous trends will help you identify what works best for your brand's success! Next, you want to check out current trends. What is popular right now? What are your consumers talking about? Knowing what consumers are currently searching for will give you a leg up when it comes time to execute your back-to-school campaign.
You want to give your brand ample time to plan the campaign. The most successful back-to-school campaigns are planned early and promoted well. There are several options when creating a unique campaign that grabs consumers' attention.
Experiential events
Typically, consumers are limited to the retailers found in their area. What if you could bring your brand TO the consumers? The good news is, you can! Experiential events are the PERFECT way to promote your back-to-school campaign. By hosting experiential events, you are allowing consumers to connect with your brand face-to-face. This more intimate interaction leads to higher brand loyalty. It is a fantastic way to build more awareness for your brand!
POP-UP SHOPS
Pop-up shops are one of the most successful ways to increase your back-to-school campaign's success. Once parents get the back-to-school lists, it's a short turnaround time to when they go shopping. Pop-ups cater to those who have shorter timelines. A pop-up shop has more audience-specific options for the most useful back-to-school items. Based on shopping habits, parents usually have their "go-to" stores. These are shops that they're familiar with, easy to get to, and have affordable pricing. However, these same parents will likely try something new if the brand comes to them! Pop-ups also provide a smaller shopping venue, making it less overwhelming and a more personable shopping experience. Offering customization on your products is proven to be highly successful as well. It makes the overall pop-up appear more exclusive. Customization of products also increases perceived quality, customer satisfaction, loyalty, and trust. One of the greatest hits for consumers is embroidered backpacks. Kids love having a unique product, and parents love that their child's school bag is easily identifiable. Get creative with your customization options. It's a simple way to get kids excited about returning to school, giving parents a sense of relief and desire to shop your brand. If it matches your brand, customization is a plus!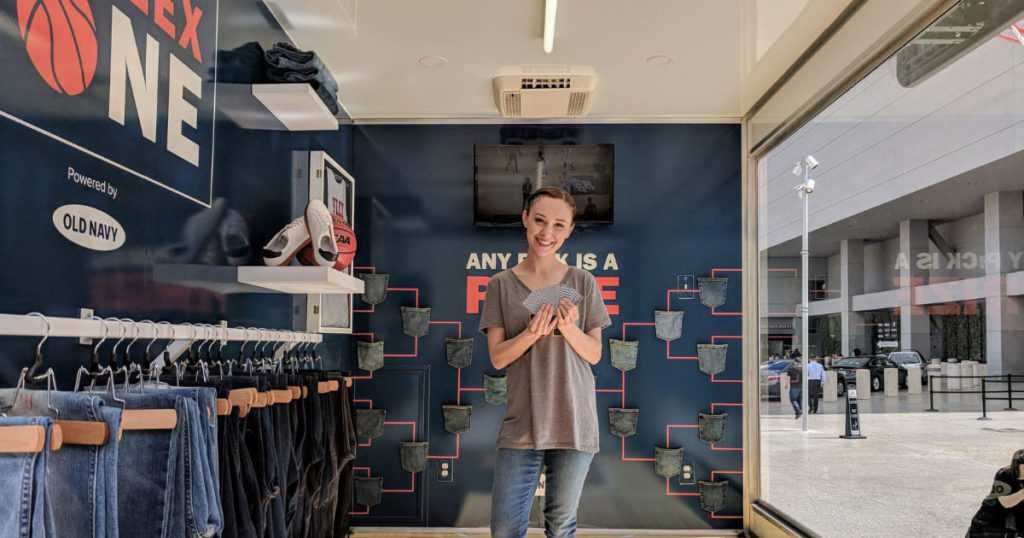 PRODUCT SAMPLING
The most effective way to turn audiences into consumers is to allow them to sample your product. 73% of people say that they are more likely to purchase after they've had the opportunity to try the product. A back-to-school campaign is a perfect place to try this tactic out! This type of event works best with products integrated into your school routine. Your brand needs to meet the needs of the consumer. Show how your product will benefit students. You have the opportunity to target parents and teachers as well. Make sure with this strategy that you're marketing for the specific action. For example, a coffee company could provide samples that "give you the morning energy you need to get the kids up, ready, and out the door for school." Product sampling works with all back-to-school necessities, from skincare to cereal. Your brand gains trust when you allow consumers to test your products. Make all your products relevant to the back-to-school season to be most successful.
GIVEAWAYS
Contests and giveaways are the perfect addition to making an unforgettable back-to-school campaign. Creating fun giveaways makes it easier for people to spend money on your products. Consumers feel like they're getting something back from your brand, so they become willing to pay more. A sense of excitement comes with the possibility of winning, leaving a lasting impression of your brand in the consumer's mind.
Get your back-to-school campaign started today! You don't want to miss out on this busy season. Experiential events are a great way to provide unique shopping options for consumers. Now is the time to plan. Back to school is right around the corner!