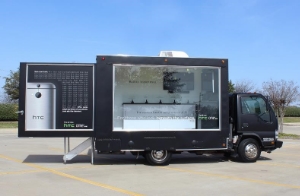 July 3rd 2014 – Eight 12 foot glass display box trucks with a custom build-out. Each truck had the following: one touch screen with custom programming; one screen with DVD player showing product highlights; 9 (3 rows of 3) custom overhead track lighting; LED lighting throughout; 2 high-end custom shelving units; 1 large interior air conditioning unit; wall-to-wall premium wood grain laminate flooring; fully WiFi enabled.
The build out featured several state-of-the-art elements that had to match the usability and aesthetics that the HTC One cellular phone possessed itself. Two large screens were placed within the air conditioned space that allowed for video tutorials to run on a constant loop on the first. The second television was a touch screen that was utilized as a interactive training tool for the Verizon employees.
Track lighting was placed along the ceiling to highlight the beauty and functionality of the HTC One. Running throughout the mock retail store was custom LED lighting that was controlled via the HTC One cellular proprietary app. Two custom made, high gloss finish, cabinets held the devices as if they were actually inside of a Verizon store so to keep the experience as real as possible for the employees. After nearly 40,000 miles between eight trucks through 15 major markets and nearly 1300 retail stores, the program met and exceeded expectations.