CASE STUDIES
Kind Snacks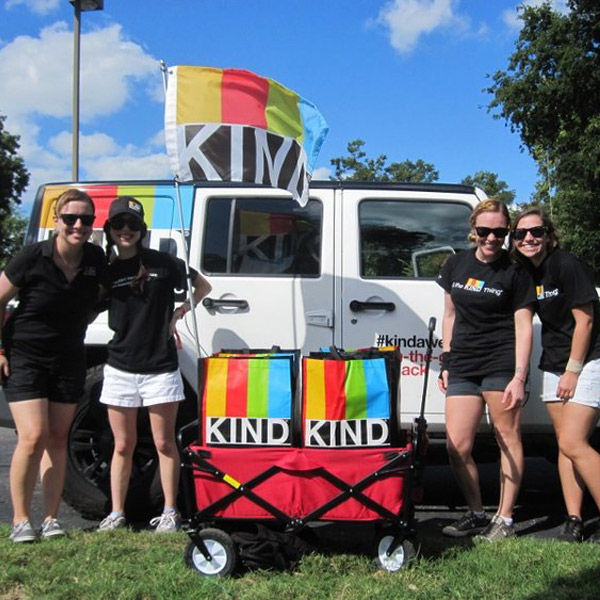 OVERVIEW
As Lime Media has grown through the years, so has one of our favorite clients, KIND Snacks. We started our journey together in 2012 with a single step van hitting a hand full of markets. Over the years, this program has grown and become a nationwide fleet of Jeep Wranglers in top markets throughout the USA and Canada. These Jeeps have given KIND the ability to create a massive, nimble, and effective sampling program. These vehicles and the staff riding in them hit everything in their region: Local and major events; retail stores to parks; high-traffic areas to college campuses. With the KIND Jeeps, we deliver healthy and tasty snacks to customers where they live, work, and play!
Client: KIND Snacks
Markets: Dallas, TX; New York, NY; Miami, FL; Houston, TX; Los Angeles, CA; Raleigh, NC; Boston, MA; Washington DC; Atlanta, GA; Chicago, IL; Denver, CO; Columbus, OH; Seattle, WA; Portland, OR; Philadelphia, PA; San Francisco, CA; Detroit, MI; Vancouver, BC; Toronto, ON
Date: 2012 – Present
Program Elements
One 28' step van, then 2 step vans; Move to 6 Jeep Wranglers, then grow to 25 Jeep Wranglers that include: custom interior storage systems; extra batteries and for the sound system; custom tires and wheels; a full vinyl wrap; commercial–grade GPS tracking system in every vehicle; fleet cards and fuel management system; insurance for all vehicles and drivers (over 500); 24/7 fleet management staff for all repairs, services, accidents or other assistance.
Fleet Management
Experiential Marketing Program
80%