CASE STUDIES
Dyson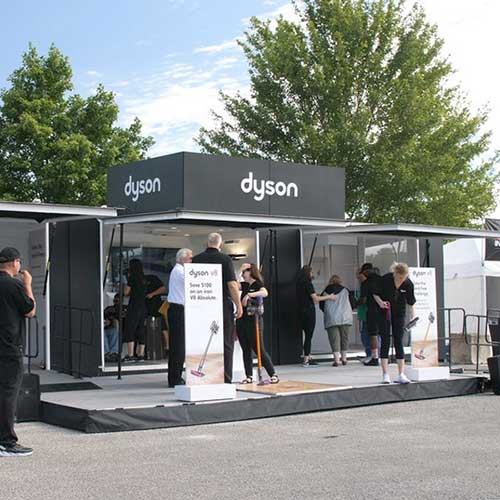 OVERVIEW
Our goal was to educate consumers on the advantages of the Dyson V8 cordless vacuum. We created 2 simulated living spaces complete with automatic dirt dispensers and a variety of surfaces and obstacles to show how quickly the V8 can transform to clean even the hardest areas. The center pod was converted into a pop up shop giving consumers the chance to buy a V8 at a discounted event price. 100+ vacuums sold and countless impressions made this project an absolute success!
Client: Dyson
Agency: TPN
Activation: Honda Indy 200; Doylestown Art Festival; Connecticut Open; Road Atlanta Race; Road America Race; San Francisco Auto Show
Date: November, 2017
Program Elements
Three (3) custom pods; staging; custom overhead sign; freestanding signs with vacuum hangers; custom lighting and electrical; 20 vacuum battery charging stations; custom tabletop displays; a variety of flooring; custom automatic debris dispensers; living room furniture; 65" mounted HDTV and more.
Custom Pods
Experiential Marketing Program
80%