CASE STUDIES
Bohemian Rhapsody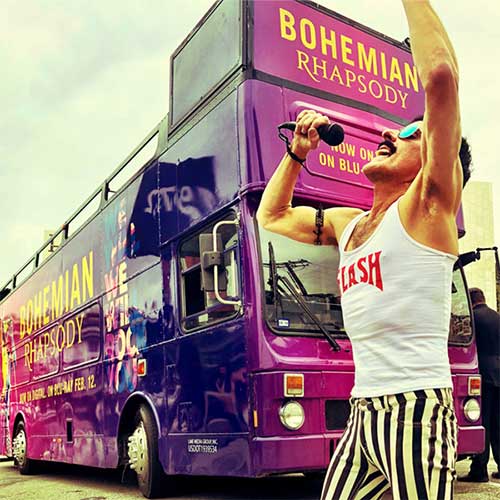 OVERVIEW
The Queen fan sing-along bus, dubbed "Rock Like Queen Tour Bus" made its rounds in the biggest markets in the country picking up passengers for a one-of-a-kind karaoke experience. Passengers were encouraged to sing along to some of Queen's top hits to celebrate the DVD release of the "Bohemian Rhapsody" movie. Fake mustaches and prop guitars were a fun addition that enhanced the experience these Queen fans won't ever forget!
Client: Bohemian Rhapsody (FOX)
Agency: The Visionary Group
Markets: NYC, Austin, Las Vegas, & Los Angeles
Date: Winter 2018
Program Elements
32' Double-Decker ADA accessible bus with a fully wrapped interior and exterior, custom bench seating on both levels, mounted flat screens and speakers for group karaoke, and a mounted Go-Pro system to capture the action.
Double-Decker Bus
Experiential Marketing Program
80%