Experiential marketing has become a popular marketing strategy for brands wanting to engage their target audience in a memorable and impactful way. But, did you know that this is especially true for back-to-school campaigns? That's right! Experiential marketing provides a unique opportunity to connect with students and parents during one of the biggest shopping times of the year. I mean, come on, what kid doesn't get excited about shopping for that perfect first day of school outfit?
By creating immersive and interactive experiences, brands are able to show off their products, build brand loyalty, and create buzz. And it's all centered around their back-to-school offerings.
From pop-up shops and product demos to interactive games and contests, experiential marketing allows brands to leave their mark on their target audience's purchasing decisions.
Pop-Up Shops
Pop-up shops are an easy, but engaging way for brands to promote back-to-school campaigns. Why? Temporary retail spaces allow brands to create a sense of urgency and exclusivity. By doing this, brands are able to attract students and parents who are actively seeking back-to-school supplies and deals. It also helps brands create a sense of FOMO. This is an incredibly powerful marketing tactic that amplifies the success of brands.
You can also use pop-up shops to showcase your new products. What's remarkable about this is that it allows customers to interact with and experience your brand firsthand. Pro tip: Customize your space to highlight the back-to-school theme.
By incorporating elements such as school lockers, chalkboards, and vibrant school colors, you can create an immersive and nostalgic atmosphere. Pop-up shops are an excellent time to offer limited-time promotions, discounts, and giveaways. By doing so, you're encouraging customers to make purchases AND building loyalty.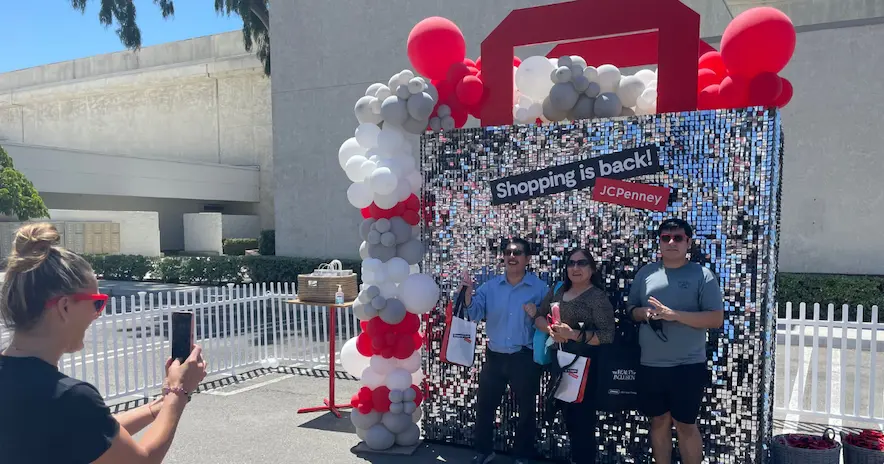 JCPenny Case Study
JCPenny created a back-to-school campaign that attracted the masses! They used a stage truck to promote the concept that "shopping is back." The brand traveled to store locations across the United States offering promotions and discounts for attendees. They also had giveaways, giving guests the chance to add to their back-to-school wardrobe. Consumers were able to get an exclusive JCPenny experience without even entering a store. The event was a huge success and kids walked in on the first day of school sporting their stylish clothes from the brand.
Giving Back
Brands have the opportunity to use the back-to-school season to give back to kids in need. By organizing interactive events and activations, you're able to create memorable experiences that engage customers while supporting a cause that matters to your brand.
For example, you can partner with underprivileged schools and give a percentage of money from your sales so children are able to receive free school supplies. These initiatives not only generate positive associations for your brand but also make a difference in the lives of underprivileged children.
You can also utilize social media and other online platforms to raise awareness about how customers can help get involved and contribute to your cause. By combining your back-to-school campaign with a focus on philanthropy, you're able to create a sense of community and goodwill and make a meaningful impact on the lives of children in need.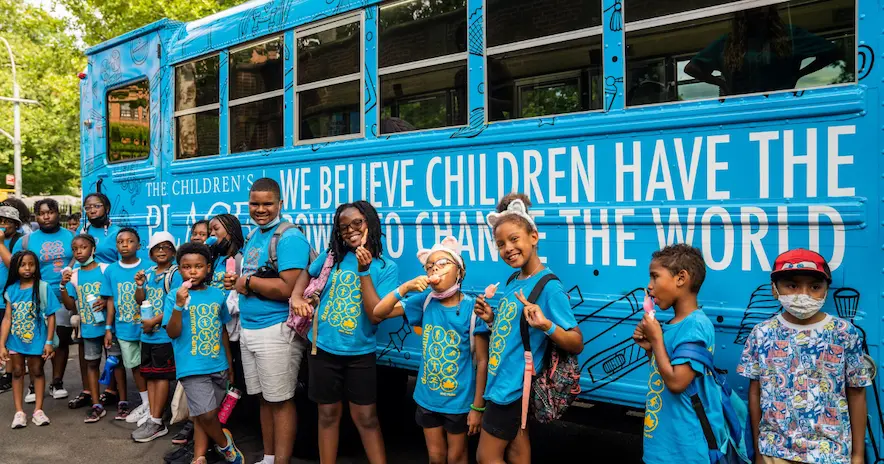 The Children's Place Case Study
The Children's Place used our school bus to give back to the community in an unexpected way. They drove the bus to Harlem in New York City and gave out backpacks to children in the neighborhood. The kids were able to choose from a selection of backpacks, making it a personalized experience as well. The Children's Place did not make any profit from this activation. However, they definitely made a positive impact and contributed to their brand's success.
You don't want to miss out on this busy season. Experiential events are a very effective way to provide unique shopping options for consumers. Now is the time to plan. Back to school is right around the corner!